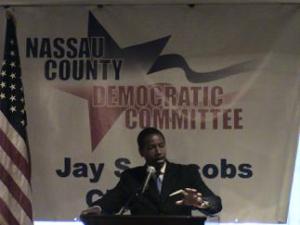 I'm at the Garden City Hotel right now for the state Democratic Party's fall meeting, which began with a breakfast hosted by the Nassau County Democratic Committee.
Senate Democratic Leader Malcolm Smith livened up the crowd with some blunt, Rangel-esque words about George W. Bush: "Our president, no question, has left every child behind. Our president, no question, has lost his mind."
Speaking after him was Rep. Carolyn Maloney of Manhattan, who spoke about health insurance and ways to solidify Democratic control of New York State.
In the middle of the room there are tables for a few presidential campaigns. Not surprisingly, Hillary Clinton's table has prime real estate, greeting visitors as they walk into the room, and Barack Obama's and Joe Biden's tables are on either side of hers. The table for John Edwards is facing the back of the room.