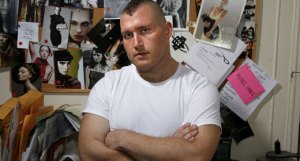 On a recent Thursday afternoon on 34th Street, a burly 28-year-old named Rob Seroka was examining some denim samples in his office at Liz Claiborne. Mr. Seroka, who runs a man's fashion line there called RSRV, gestured his right index finger—a thick, meaty right index finger—at one swatch.
"Well, this is a six-dip denim," he said. "A vintage six-dip wash with a light blasting on a crosshatch denim."
He caught his breath. "But I'm not as into denim," he continued. "My specialty is wovens."
Mr. Seroka was speaking pure fashionese, but in his ripped jeans, lime button-down shirt and white sneakers, he looked nothing like most of the delicately shaped boys and girls circulating on his floor. At 6-foot-2 and 225 pounds, Mr. Seroka has always had a name for himself in the gay world he patrols in his off-hours: He's a bear (or a "bear cub," since he's only 28). A bear is not unlike a lumberjack: big, hairy and favors plaid. And that has never been a particularly popular image in the design community, which tends to favor the black-clad and slender.
Until now. Meet the Design Bear, the furry antithesis to the foppish clique of fashionistas, furniture makers and artists: a clique filled with skinny jeans and tight-fitting T-shirts (think the French designer Hedi Slimane), a clique among which one bear, the artist Nayland Blake, said he sometimes feels like nothing so much as the neighborhood garbage man.
"Some guys say they are metrosexuals," Mr. Blake said. "I call myself the hobosexual."
Grrrrrrrrrrrrrr!
'A Certain Shape and Size'
The thing about Design Bears is that while they may prefer a shleppy outward appearance—"We have a closet of plaid shirts and some of them are from high school," said Robert Tagliapietra, half of Costello Tagliapietra, 2007's answer to Dolce & Gabbana—what they create is as beautiful as what their more cosmetically refined peers create. In other words, their bearness is a purely personal style, not a professional one.
"The way we look doesn't have a typical gay sensibility," Mr. Tagliapietra said, "but we love the woman's body and that's where we do our work."
"I would consider myself definitely atypical," said Patrik Rzepski, who himself carries a bit of extra padding, even as he dresses sylphs like Sienna Miller and Maggie Gyllenhaal in ethereal frocks. "But sometimes you fit in a fashion crowd by sticking out."
The Design Bear does many of the things you might expect from a typical queen: making people over, cooing over shoes, fondling fabric. ("This is twisted-yarn plaid," said Mr. Seroka with particular glee. "This makes it wrinkled, the yarn gets twisted in there.") But he's more likely to prefer gay bars like the Dugout and the Eagle to tanorexic hangouts like G Lounge and Vlada.
You might say he's been hiding in plain sight for years—but poised to have a coming-out party. During Fashion Week last month, Mr. Tagliapietra and his longtime partner, Jeffrey Costello, both gray-haired bears, captured the imagination of style commentators, including The Observer's own Simon Doonan.
"With Jeffrey and Robert in the forefront of the public eye, it's changed the perception of what a gay man is," Stevo Harris, the editor of the niche magazine A Bear's Life, a catalog of all things bear, said approvingly. "They can't believe the man sitting next to them is gay."
The more you look for Design Bears, the more you find them. Mr. Rzepski, a 25-year-old who has had his own label for six years, was recently in Paris to show his collections. "You want people to remember you, and you hope it's because I'm really approachable and nice," he said, with a bear's generous spirit. "But if they remember me because I'm a certain shape and size, then go for it."
And the publishing industry has pounced. Recently, a book named Bear Flavoured, a 256-page account of bears in fashion and the arts, was released in London.