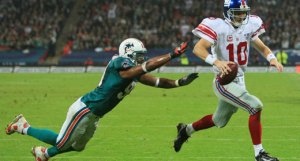 The most important thing for the Giants, one supposes, is that they won.
Their sloppy, rain-soaked 13-10 win in London allows them to go into a bye week having extended their win streak to six, thanks to a hard-working running game and a hard-hitting defense.
But the way in which they prevailed over a truly bad Dolphins team made one continuing problem glaringly obvious: Eli Manning. Manning completed only eight of his 22 passes for a mere 59 yards. (Yes, 59 yards.)
Sure, he wasn't the only one affected by the English weather. Dolphins quarterback Cleo Lemon fumbled a wet ball for a turnover and underthrew some slippery passes fifteen yards short of their intended targets. But because Manning threw incompletion after incompletion, only connecting for three passes in the second half, Miami was able to stay competitive in a low-scoring game that was closer than it should have been.
The scoreline proved, once again, that the Giants are winning in spite of their quarterback, not because of him.
During their winning streak, Manning has completed just 56.4 percent of his passes, throwing nearly as many interceptions (seven) as touchdowns (eight). His best moments in these games have come when offensive coordinator Kevin Gilbride called for play action, as defenses threatened by Brandon Jacobs' big-play abilities leave receivers open or in single-coverage.
In the London game, Manning had veteran Amani Toomer wide open in the end zone on one such play, but threw too high. The drive resulted in a field goal instead of a quick six points.
Some parts of Manning's game have shown improvement. With about five minutes left in the first half, he called an audible at the line after seeing a blitz coming up the middle. He gave the ball to Jacobs, running to the left away from the blitz, and watched as the back gained 15 yards for a first down.
Manning has also shown better decision-making abilities, as evidenced by his slow but effective touchdown scamper to the left after a broken play left the Dolphins' defense running in the opposite direction. He took his time watching the play develop and didn't force a throw, as he has in his previous three seasons.
But as often as he's outthinking defenses, they're outthinking him. Manning opened up the second half trying to connect for a quick pass out of the backfield to Jacobs. After the snap, Manning turned his head to watch Jacobs and committed his body to throwing the pass to his left. Miami defensive end Jason Taylor positioned himself by simply watching Manning's head and body, nearly intercepting a pass that would have easily resulted in a score.
In his fourth year in the league, Manning still appears to have trouble with the subtleties of the position, like the ability to look off safeties to give his receivers more room downfield. And he all too frequently forces throws into coverage instead of checking down to find a better option.
Manning's performances haven't been a problem as long as the Giants have been winning. But it's worth noting that they've beaten six teams that had a combined winning percentage of .275 coming into week 8.
A former first pick in the 2004 NFL draft should, in theory, be able to take apart the weaknesses in each of those defenses. At least Manning has stopped coming off the field, unsnapping his helmet and looking sullen and defeated after making mistakes. It shows, perhaps, that he's taken to heart ex-Giant Tiki Barber's opening-season comments about his lack of leadership.
Now if only the Giants could figure out a way to get Manning similarly fired up about his depressing passing numbers, they'd really be on to something.