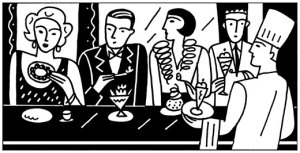 Do not ask Don Tillman, co-owner of the packed East Village dessert bar ChikaLicious, about "dessert bars."
"I think there's only one dessert bar in the United States, and it's this one," he said on a recent Friday, sitting at the bar of his white minimalist establishment at 5 p.m., the hour at which it closes briefly to convalesce before the evening's rush ("We found it necessary to close between five and seven on weekdays just to catch up with the crowd.")
"If you want to experiment with making dessert and steak match up together, that's a different type of animal there," he continued. "When I think of other types of places that are called dessert bars … I don't see Tailor, or P*Ong, or Graffiti as our competitors. I think Dunkin' Donuts is probably a larger influence on dessert."
Me-Ouch!
Mr. Tillman—whose wife, Chika, is the dessert bar's chef—was referring to the much-discussed new wave of "sweet/savory" restaurants currently being opened by former pastry chefs from places like Jean-Georges and WD-50, which incorporate dessertlike qualities into dinner, resulting in concoctions such as Graffiti's "Pineapple Grape Tarragon Salsa with Peach Tequila Ice." This was not, he insisted, the project of ChikaLicious, which was all dessert, all the time, thank you.
"These are in no way the typical American overly-sized, overly sweet, overly fat desserts," he said. "They're more—I don't want to say health-conscious, but they're more fresh, with natural ingredients, no chemicals. Nobody comes here to make it a dessert meal, because the portions are for people who are just coming from a large dinner."
In other words, dinner has its place, and so does dessert, and the two should leave each other be.
Of course, not everyone is in agreement. Alison Nelson is proprietress of Chocolate Bar, which peddles a Barcelona Baguette—toasted baguette with melted 71 percent cacao chocolate, olive oil and sea salt—to the lady shoppers of Bendel's.
Ms. Nelson sometimes takes her Barcelona as a meal—"I'll sort of have it for breakfast or an afternoon snack," she said the other day—but nonetheless, she doesn't predict a wholesale takeover of dinner by the encroaching forces of dessert.
"I find that a lot of the people who come in, be it at our downtown store and up at Bendel's, it's enjoyment in moderation," she said. "The New York woman—I don't see her eating a chocolate dessert in place of dinner. There are too many actual good dinner foods out there."
She paused. "Though there was that whole gummy bear fad a few years ago," she said. "Elizabeth Hurley had said she just ate gummy bears and lost all her baby weight. And I remembered hearing that Dylan's Candy Bar had a full run on gummy bears for weeks after that—people were just eating gummy bears for lunch!"
The other day at Ms. Nelson's third-floor shop at Bendel's, two middle-aged women with large hair struggled to place their order.
"Abby. Do. You. See. Those. Cookies," one whispered fiercely to the other, who wore a leopard-print blazer and large-framed glasses. They finally settled, with an air of defeat, on two Italian sodas and several of the store's small orange button souvenirs, which say things like "Chocolate Rocks!" and "Wear more Chocolate."
This was not a typical order, said Ms. Nelson, who noted that most customers take their hot chocolates with whole milk. "It's a pendulum-swing thing," she said. "For so many years, it was low-fat, low-carb. Now I think people are like, 'If I'm going to eat something chocolately, it might as well be good.'"
Some might find it ironic that Chocolate Bar at Bendel's, which opened in May, directly abuts the ladies lingerie department on the third floor. (Saks and Bergdorf Goodman both have chocolate cafes, too; they abut the ladies' shoe and jeans departments, respectively). Between the sweets and the skivvies stands a mannequin wearing a "Chocolate Girl" tank top. Spread on tables nearby is a selection of colorful cupcake piggy banks.
This is not dessert-as-meal; it's more dessert-as-fetish, or dessert as a stand-in for one's lost childhood. At Saks' Charbonnel et Walker chocolate bar, mini-croissants and cheddar cheese scones float by on a moving conveyor belt, passing six inches from a customer's nose, and tiny pink chocolates in the shape of shoes are displayed behind glass. The effect is very Charlie and the Chocolate Factory. But at Bendel's, where Chocolate Bar overlooks an atelier, it's more Marie Antoinette.
Let's face it: The women of New York eat cake.
The lingerie juxtaposition begs the question: If New York women are obsessed with eating brownie sundaes at four in the afternoon, why are they so skinny?