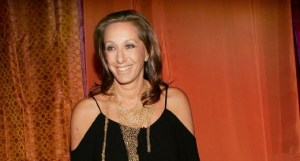 Last night at Guastavino's The Daily Transom found Donna Karan in the mood to wax metaphysical.
"I've been to Africa many times already, and once you get bit by an African bug, there's nothing like it in the world. You know what it is—did you hear the drumming?" Ms. Karan asked, gesturing to a group from Children's Storefront School in Harlem, who had earlier in the evening entertained guests with a traditional African dance performance. "That drumming goes into your heart and soul. You see those children? That goes into your heart and soul."
The 58-year-old fashion magnate, who was wearing an entirely-black layered outfit of her own design, was a special guest at a charity dinner for Kageno—an organization that provides healthcare and education in Kenya and Rwanda.
A few moments later, Ms. Karan, who had yet to touch the arugula salad that had been sitting in front of her for some 30 minutes, mused on the qualities that draw her to the continent. "It really is a grassroots of purity and it handles both the dark and the light. Some of the darkest things are going on there. You know, with pain and suffering and AIDS and everything else. And yet, they're the most spiritual people I can possibly imagine." She showed off the necklaces hanging around her neck, which were made in Namibia. "Everything can't look like New York City. We've gotta preserve this and help sustain it!"
Indeed, while most of Africa looks nothing like New York City and probably never will, Ms. Karan purported to see a particular, more human bond shared by the apparently unlike locales. "Harlem and Africa are very connected—the Bronx, Far Rockaway, the kids here," she said, again gesturing to the event's young entertainers. "And you wanna know something? The kids there are no different than the kids on Madison Avenue! You know, children are children throughout the world, and it's our job to help them. We've created this mess, or some of it, so we're responsible to un-create it and give them the tools that they need to make life different."
Natasha Richardson, who agreed to host the event at the request of her "good friend" Drena DeNiro, seemingly shares many of Ms. Karan's warm sentiments for Africa, a place Ms. Richardson and her family visited about a month ago. "It's sort of profoundly moving and uplifting all at the same time," the English actress explained in sultry rasp.
Ms. Richardson, 44, said she's aware that the recent torrent of Hollywood A-listers' financial support for and infant adoptions from Africa could, for some, deflate some of the movement's credibility. "I know people always have a bash at celebrities picking up causes of the moment, and if it's to enhance their own celebrity, then I would wholeheartedly agree with the public who think so," she said, before quickly adding: "But when it's just people who—humanitarians—who really care about genuine plight coming together, then that's a whole other matter.
She said she is looking forward to some downtime after wrapping Nick Moore's romantic comedy Wild Child, in which she'll star alongside Emma Roberts and Nick Frost.
"I don't want to pack a suitcase, just happy to be home in New York. I don't want to go anywhere … except the gym!"