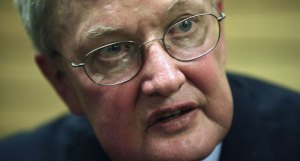 Roger Ebert will be honored at the 17th annual Gotham Awards for a career of championing independent cinema, according to the AP.
The 65-year-old film critic will receive the honor at the Nov. 27 event at Brooklyn's Steiner Studios. The Gotham Awards celebrate independent movies and films set in New York. An official announcement of the Ebert tribute was planned for Monday.
"Through his columns, books and television show, Roger Ebert has almost single-handedly introduced independent film to American moviegoers," said Michelle Byrd, executive director of the International Film Project, which presents The Gotham Awards. "His championing of high-quality, undiscovered films has put countless films, filmmakers and actors on the map."