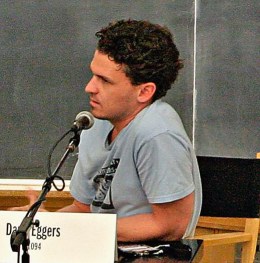 The film adaptation of A Heartbreaking Work of Staggering Genius will not "see the light of day," according to Dave Eggers, Mcsweeney's founder and superhero head of a literary program with 826 Valencia. The option ran out, he told Entertainment Weekly.
What's the status of the Heartbreaking Work movie that's been in the works forever? And your second book, You Shall Know Our Velocity, just got a movie deal too, right, with Chuck & Buck and The Good Girl's Miguel Arteta set to direct?
With the Velocity movie, we're talking very, very small numbers. It's a small independent production company [Process Media, which bought the rights]. And the other one is not likely to, uh, see the light of day. [Laughs]
The Heartbreaking Work movie is gone now?
Yeah, which is no tragedy for me. The option ran out. So that will probably be the end of that. In the meantime, the 826's were born out of the generosity of the New Line film company. I think everybody sees it that way, and those guys know that they gave birth to that nonprofit, and helped fund it, so I think that everybody should feel good.
You don't seem like a guy who was desperate to cast himself in the movie version of his own life.
[Laughs] Oh, man! It was good news when that option ran out.