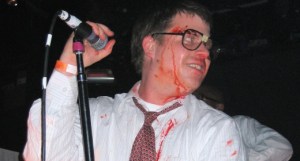 The Chicago Dance Crash will stage a ballet based on the music of El-P, the progressive, worthsmith of a rapper from Brooklyn and CEO of Definitive Jux records, according to Pitchfork.
CDC will close out its 2007 season with Destructible Daytrip, an original ballet set to El-P's music. According to a press release, the show is "a mixture of ballet and boogie," and CDC Artistic Director Kyle Vincent Terry has choreographed to El-P's music for two years in preparation for the project.
Terry has also kept a weekly updated blog of the show's progress, documenting everything from casting to closing night (when it happens).
Destructible Daytrip will run on Fridays and Saturdays from October 26 (that's tonight!) through November 3 at Chicago's Ruth Page Center for the Arts.
The director's blog is more blather than actual information.
let's just get this work done so I can sleep a nd watch football in november. I know that the first part of this blog is boring. If you want to read the drunken, ill-structured rants you should read the end of it.
Wish List:
-Everybody shut the hell up
-That people show up to work like it's work!!
-To not be so self-concious
-to have one good night of sfga;hhhhhhhklllllllllllllll (sorry: fell asleep again)
-a damn assistant
But here's an excerpt of an entry from Nov. 2006 that at least highlights the goals of the performance.
When we are preparing for a CONCERT show the music is EVErytHING. tHE THUMP OF bASS. the reverb of certain sonG. The Way the pIECE oPENS. tHE ENERGY is Never in question. I listen to El-P everyday and the interestiing thing about HIS sound is that hE never deviates from convincing THE listener thaT the Point he is MaKing is DEarest to His Heart at the TiME! What is nearest and dearest to me is proving that dance has the potential to change peoples lives–to show that the possibilities are closer to endless than one might think.