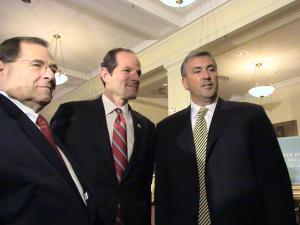 Tony Blair's comments at an event in Manhattan yesterday "only takes us closer to the abyss of war with Iran," says David Cox on the Guardian's web site.
Andrew Mario Cuomo donates to Chris Dodd.
Ben points to some flaws in that L.A. Times story about Hillary Clinton fund-raising in Chinatown.
Chuck Schumer is unusually quiet on whether he supports Eliot Spitzer's driver's license plan.
Christine Quinn announced today that her new LGBT and HIV/AIDS liaison is Jeremy Wilson [no link].
Lou Dobbs has made Jose Serrano famous enough to get hate mail.
In the comments section, Jim Kelly and Yoda debate the significance of the Al Smith Dinner.
Jason Varone takes a whack at David Weprin on congestion pricing.
New York magazine challenges Cindy Adams.
Daily News writer Tom DeFrank has a book coming out.
The Village Voice reports on itself.
The New Republic is getting an on-line face lift.
A weird New York Times story about child pornography and lots of money just got weirder.
Hillary has a new ad.
Roger Stone is still drawing a crowd.
Elana Levin has a schedule for congestion pricing hearings.
A conservative political operative from New Jersey goes on trial for roughing-up a protester.
Today is the last day of work for Staten Island Advance reporter Rob Hart, who is leaving his beat in Albany to make lots of money.
And pictured above are Spitzer, Balboni and Jerry Nadler at the press conference announcing Richard Clarke's support for Spitzer's driver's license policy.