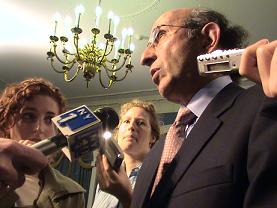 Liz gets into the video business today, with Keith Wright telling legislators to "pop a valium."
Ben sees problems with informality.
In the comments section, Anonymously wonders if the split on the driver's license is common.
Glenn Thrush enjoys hearing about Rudy Giuliani's 9/11 dream.
Kevin Sheekey's musings about Bloomberg '08 get a little traction.
Richard Brodsky held a hearing on net neutrality.
There's an effort to stop a transit fare hike.
Eliot Spitzer responds to James Tedisco's claims about member items.
Michael Bloomberg and Randi Weingarten struck a deal on merit pay for teachers.
PoliticsNJ follows newspaper endorsements in that state.
New York Press wonders who Michael Bloomberg's running mate would be.
And pictured above is Schools Chancellor Joel Klein answering questions about merit pay, but not the Khalil Gibran school.