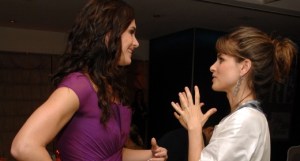 John Sabini pleads not guilty.
Hiram Monserrate said that the idea of caucusing with the Republicans "is ridiculous."
In the comments section, QueensSINGH thinks Monserrate is more popular than John Sabini.
The comments about my video of Fred Thompson are not positive.
Andrew Cuomo doesn't like to rate doctors.
In New Jersey, there's some interesting campaign literature claiming one person's "door is always open if you have enough cash."
Adam Green says Ann Coulter is the "Lindsay Lohan of the pundit world."
Glenn Thrush has a good Hillary Clinton joke, courtesy of Arlen Specter.
Ben has a good view of the duel between Joel Benenson and Mark Penn.
The DA race in Staten Island goes multi-lingual. (Who knew?)
The likeliest third-party candidate in 2008 may not be Mike Bloomberg, but Ron Paul.
And pictured above is Brooke Shields with Amanda Peet at a party at Rockefeller Plaza last night. Peet said, "there are a lot of sort of misconceptions about Hillary being cold and condescending, so I don't know that she's going to have this aura of compassion and maternal empathy more than, say, Barack Obama or even McCain".