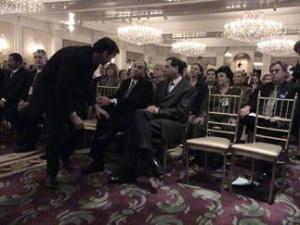 In Hillaryland, Howard Wolfson explains that Mark Penn did not work for Blackwater.
Andrew Sullivan thinks Hillary is still the best fund-raising tool Republicans have.
Kos has hope that the progressive wing of the Democratic Party may exert some influence on the FISA issue.
Senate Republicans want documents from the governor's office.
In the comments section, What's So thinks Tish James could be the next speaker of the City Council.
Michael Bloomberg and the mayor of Los Angeles had a nice time together yesterday.
Karla Shuster thinks Michael Bloomberg may have offered a new reason not to drive into Manhattan anymore.
There are 108 pages of documents from the Phoenix Police Department with details about phone calls to Betsy Gotbaum's daughter-in-law before she died.
Here is footage of Carol Ann Gotbaum in the Phoenix airport.
Inside Edition gets into the Gotbaum story.
Ron Paul defends Barack Obama's decision not to wear his American flag pin anymore.
New York magazine has a tutorial of corruption in Atlantic City, just in time for your weekend getaway.
John McCain is looking for New Yorkers.
Bill Richardson blogs against the war.
In New Jersey, Tom Kean, Jr. said he's keeping donations he received from Larry Craig.
Is that Ravi Batra next to Mr. Met? (second item from bottom)
And pictured above is Tom Suozzi, politely excusing himself from an event with Tom DiNapoli earlier this week.