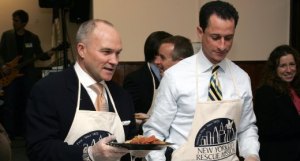 Over the weekend, Page Six reported that Hillary Clinton's unflappable, über-fashionable top assistant Huma Abedin was recently spotted in the throes of an excited conversation with New York congressman Anthony Weiner. It's part of a recent tradition in the Post to try to find the 43-year-old bachelor a match.
In the summer of 2005, the paper reported that Mr. Weiner's mother was "begging him to get married soon," but he was "in no rush."
And since Huma Abedin is beautiful, glamorous, and political! she seems like a suitable one. How suitable?
Back in April, Mr. Weiner told The Observer that of all the people working on Ms. Clinton's campaign (including the senator and the former president), Ms. Abedin is "the coolest customer." He went on to recall watching her expertly manage the Clintons, press and crowds during a politically tricky trip to Selma, Ala. "There were a hundred things that could have gone wrong…And Huma was sort of the all-purpose trouble-shooter of first response. It was a tour de force, and what was most impressive is that she maintained a level head the whole time," he reportedly said. Also? She's a superhero: "In fact, I think there's some dispute as to whether Huma's actually human or not," Mr. Weiner said.
We contacted Mr. Weiner's office to see if it was a love match, and we'll let you know if he gets back to us.