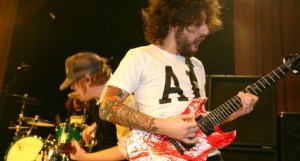 Fall Out Boy, Maroon 5, the Academy Is …, Cartel, Coheed and Cambria, Colbie Caillat, Hot Hot Heat and the Decemberists will all be participating in MySpace's Rock for Darfur concert on November 10, MTVNews.com reports. A total of 32 concerts will take place on four continents to raise awareness about the Darfur conflict (kinda like Live Earth?).
A portion of the proceeds from the bands' previously scheduled shows will be donated to Oxfam International and the Save Darfur Coalition.
In New York, Gabby Glaser of Luscious Jackson will perform at The Annex and Victory Records' Streetlight Manifesto will play ska at The Grand Ballroom at Manhattan Center.