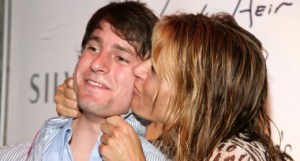 Page Six Magazine has run two columns by fashion guru and party gal Kelly Killoren Bensimon, and since she's in the life she's reporting on, "The Socializer" already seems well-placed to give her friends a leg up in the world. The founding editor of Elle Accessories takes us back to about 1997 with her complaint about people who talk loudly on their cell phones in restaurants, and touted Anthony Martignetti's eponymous prepster-haven, Bar Martignetti, as a place where she can enjoy her "steak and a Heineken" in peace. Luckily Mr. Martignetti is also her good friend and fellow Trinity College alum!
One Saturday night visitor might have been surprised to see the item, having been at the popular (and, we think, noisy!) upstairs dining room the night before when several horrified regulars looked through the massive windows to see an over-served reveler tumbling out of the bar and violently throwing up all over the sidewalk as a friend massaged her back and shoulders.
Another Heineken, please!