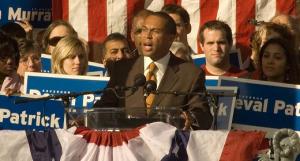 The late word from Boston on Oct. 17 was that Massachusetts governor Deval Patrick, one of only two African-Americans ever to be elected governor, has decided to endorse Barack Obama in the Democratic presidential race.
This is actually something of a surprise. Mr. Patrick, 51, is a Clinton administration alum, appointed to run the Civil Rights division of the Justice Department from 1994 until 1997, and securing his presidential endorsement for the Hillary Clinton campaign was seen as one of Bill Clinton's pet projects.
Mr. Patrick's move comes at a time when opinion-shaping voices are openly wondering whether influential Democrats will willingly tie their names and reputations to an Obama campaign that seems destined for second place.
Certainly, Bill Clinton did all he could to deliver his one-time appointee for his wife. The former President campaigned for Mr. Patrick during his gubernatorial bid last fall and showered him with praise just two weeks ago, when Mr. Clinton headlined a rally in Lowell, Mass. for Congressional candidate Niki Tsongas. Seconds after Mr. Clinton finished that speech in Lowell, he sought out Mr. Patrick, who was seated with other party leaders and dignitaries on the stage, and as an audience of 3,000 looked on, threw an arm around the governor and conversed warmly with him for several minutes.
Famously dubbed America's "first black President" by Toni Morrison, Bill Clinton is his wife's best weapon as she tries to block Mr. Obama from cornering the market on African-American support—and from keeping any talk of a politically toxic racial divide from entering into the Democratic contest. When John Lewis, a Georgia congressman and Civil Rights era hero who was beaten nearly to death on "Bloody Sunday" in 1965, endorsed Mrs. Clinton two weeks ago, Bill's fingerprints were evident. Mr. Lewis had initially seemed inclined to back Mr. Obama, but he had also developed a close personal relationship with Mr. Clinton, who doggedly pursued the congressman's help for 2008.
In the same way, Massachusetts Democrats have long suspected that Mr. Patrick preferred Mr. Obama to Mrs. Clinton, but that he felt conflicted by the tug of loyalty to the former President. Mr. Obama recognized Mr. Patrick's potential value early on: In June 2006, before it became clear to the rest of the world that Mr. Obama was eyeing an '08 presidential run, the senator from Illinois made a well-timed campaign appearance with Mr. Patrick on the eve of the crucial Massachusetts state Democratic convention. Mr. Patrick's stunning success at the convention established him as a heavyweight and set him on course to win the three-way primary the following September.
Mr. Patrick's endorsement is a significant one. Like Mr. Obama, he is a pioneering political leader, one of the most visible faces of a generation of African-American leaders who have built reputations that transcend the Civil Rights movement of the 1960s. Mr. Obama and Mr. Patrick are in rare company together, two of just five African-Americans who have ever been elected to the Senate or to a governorship, each winning only by attracting large numbers of non-black supporters. (Just five percent of Massachusetts' population is black, a smaller figure than that of Kansas.) Moreover, like Mr. Obama after his famous convention speech in 2004, the national Democratic Party would love to put Mr. Patrick's face on it product: He is a mesmerizing speaker, projects energy and intelligence, and boasts a compelling and inspiring life story.
The Boston Globe, which first reported Mr. Patrick's endorsement decision, said that the governor was going with Mr. Obama "because he believes the country is hungry for his new style of leadership that cuts across both racial and party lines and stirs up strong voter enthusiasm."
The real value of the endorsement is probably the simple fact that Mr. Patrick is offering it now, after weeks of hardening conventional wisdom that Mr. Obama has fumbled the ball and effectively handed the nomination to Mrs. Clinton. That Mr. Obama can trumpet a high-profile endorsement—one that both Clintons had aggressively sought—can be presented as an argument against the notion that his campaign has stalled.
Mr. Patrick has provided a potentially important boost just when Mr. Obama needs it the most. Proving, if nothing else, that even Bill Clinton's famous charm has its limits.