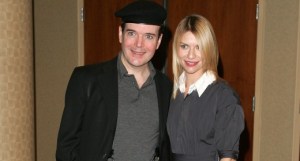 THEATER:
Who: Claire Danes, Jefferson Mays
When: Oct. 18 – Dec. 16
Where: American Airlines Theatre
How: Check for tickets here.
Pygmalion, starring Claire Danes as the street urchin who will become a society lady thanks to the help of a professor, played by Jefferson Mays, will open at the American Airlines Theatre tonight. Tony nominee David Grindley will direct The Roundabout Theatre Company's revival of George Bernard Shaw's play based on the Ovid tale.
CONCERTS:
Wise up to lit rock sweetheart Aimee Mann at the Manhattan Center Grand Ballroom on Dec. 14. [On Sale: Friday, Oct. 19 at 10 a.m.]
Manchester's David Gray will perform his folk-rock, acoustic songs at the Beacon Threatre on Dec. 4. Bring tissues for his requisite performance of This Year's Love. [On Sale: Friday, Oct. 19 at 10 a.m.]
New York's Coheed and Cambria, whose new album No World For Tomorrow will be released next week, will unleash their high-pitched, prog rock anthems at the Roseland Ballroom on Nov. 29. [On Sale: Friday, Oct. 19 at noon.]
Remember when Brooklyn's Nada Surf came out with that video for their song "Popular" in the mid-90's and everyone lumped them into the "geek rock" realm along with Weezer? Well, they're still around, making great music and looking just a scruffy/adorable as ever. They'll be at the Music Hall of Williamsburg on Feb. 7 and the Bowery Ballroom on Feb. 8. [On Sale: Friday, Oct. 19 at noon.]
Hey hey, Neil Young will come to United Palace Theatre on Dec. 18 to keep rocking in the free world and whatnot. [On Sale: Monday, Oct. 22 at 10 a.m.]