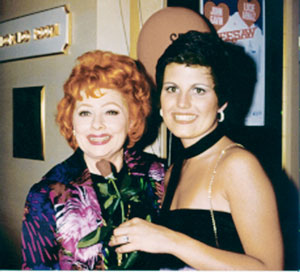 Eighty-one years since she moved to New York City to study acting, 50 years since her canonical show ended and 18 years since she died, Lucille Ball has bought a million-dollar condo.
Her eponymous trust closed last month on a two-bedroom, 1,014-square-foot apartment at the new rental-turned-condo building Sheffield57 near Columbus Circle. City records show that the Lucille Ball Morton Trust, signed by daughter Lucie Arnaz Luckinbill, paid $1.15 million to developer Kent Swig.
"It's my trust set up by my mother and it has been invested for two decades," Ms. Arnaz, a 56-year-old actress, wrote to The Observer. "I manage it now and I felt this was a good investment for the Trust. It's that simple. I may or may not even live there."
Her address is listed on the deed in the massively wealthy Connecticut suburb Weston, where Erica Jong and Keith Richards both happen to have spreads.
Oddly, Ms. Arnaz wanted to buy her Manhattan condo as is, instead of paying the developer for the standard condo upgrade. When she got the place, it had "cottage cheese ceilings and Formica cabinets, the '70's style," she wrote.
"Most people either aren't interested in taking the time to do the upgrade themselves or don't know how. I wanted to do it." That's the old Lucy moral fiber!
Even if Ms. Arnaz gave up cushy renovations for her apartment, she still has the building's spa and open-air pool (with "poolside sun terrace") and the screening room, plus the private dining club and lounge (with cocktails service).
But considering her mom's mutiny against uptown domesticity on I Love Lucy, Ms. Arnaz's realty pragmatism is surprisingly adultlike. "I like to look at any real estate in terms of resale value," she wrote in her last e-mail. "I have kids."