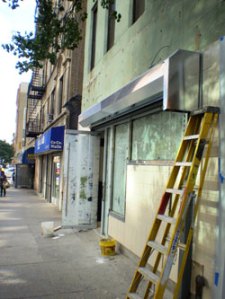 "This isn't some touristy deli," said Jimmy Failla. "This place has street cred."
He was referring to Sarge's, the grungy old Jewish delicatessen with the bright red awning on Third Avenue between 36th and 37th streets.
For more than four decades, this hole-in-the-wall house of hot brisket, corned beef and pastrami has carved out its niche in the neighborhood, tucked far away from the more famous Manhattan cured-meat meccas of Carnegie and Katz's—an island of overstuffed rye sandwiches amid the culinary Indian Ocean colloquially known as "Curry Hill."
"You come here for the food and because you know [the place]," said Mr. Failla, a 30-year-old stand-up comic and regular patron since the age of 15, as he finished off a plate of fried kreplach on Monday night. He said he comes for the "gritty" vibe ("You feel like you're in Old New York," he said) as much as the hearty fare.
Call it "seedy," or even "depressing." (Zagat Survey has used both terms.) But in 2001, New York magazine awarded Sarge's the distinction of having "the best corned-beef sandwich north of Second Avenue Deli."
Weeks from now, that title might still hold true, if only by four short blocks.
Heirs of the hallowed Second Avenue Deli, which shuttered its original East Village location during a 2006 rent-hike dispute, are now encroaching upon Sarge's turf, with construction well under way to reincarnate the fabled eatery in the space of a former tapas joint on 33rd Street, nearest the corner of Third Avenue. (The proprietors had reportedly planned to open this past summer, yet the work continues. Exactly when it will open is unclear. "It's hard to say," said a woman who answered the phone at the new address on Monday. "We're having gas problems right now.")
Once it opens, the new location threatens to set up a head-to-head scrum for bragging rights as the area's knish capital, pitting against one another two of the city's enduring delicatessen clans, both of whose founding patriarchs, it turns out, happened to be named Abe:
The descendants of the late Abe Lebewohl, a Holocaust survivor who famously opened Second Avenue Deli at the corner of Second Avenue and East 10th Street in 1954, versus the descendants of the late Abe Katz, a local police sergeant who parlayed his late-night hunger during graveyard shifts working the beat into the opening of Sarge's in 1964.
Sarge's has operated round-the-clock ever since its founding, with Katz's grandson, Michael Katz, now running the place. Second Avenue Deli has shut down more than once: after Abe Lebewohl's 1996 murder at the hands of a robber, and again last year in the face of a reported $9,000 rent hike.
Lebewohl's nephews, Jeremy and Joshua Lebewohl, now plan to resurrect the family deli while also attempting to preempt any repeats of its prior tenant troubles. (The family bought the whole five-story building on 33rd Street this past January for more than $5 million, city records show.) According to the State Liquor Authority, the brothers have applied for a liquor license under the corporate moniker Uncle Abies Deli Inc.
The brothers Lebewohl undoubtedly enter a new neighborhood armed with Uncle Abie's cachet. But can they deliver the same quality product?
"The reason the Second Avenue Deli was great was Abe," said food writer Ed Levine, author of New York Eats and founder of the Internet food site SeriousEats.com (as well as a former Observer dining columnist). "He was an obsessive sort of perfectionist when it came to deli food."
After Lebewohl's death, his brother, Jack Lebewohl, carried on with the business (and its mythology). Still, "the deli wasn't what it once was while Abe was alive," Mr. Levine argued.
"The idea that it's being resurrected, we all go, 'Hey, that's awesome,'" Mr. Levine said. "But in the end, it's going to be about the food and about the standards that someone in there is setting."