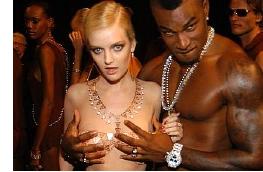 Looking through Lydia Hearst's column in Page Six Magazine this weekend might have brought on a case of deja vu. In an item titled "Craziness at Cavalli," the magazines model-heiress diarist writes:
Last week, [Ed.: emphasis added] I flew from New York to Florence with three other models—Jessica Stam, Theodora Richards and Erin Wasson—to shoot the Roberto Cavalli for H&M ad campaign. It was surreal.
For starters, Roberto held the shoot at night, inside his Italian mansion, and he threw a party while Terry Richardson took our photos.
Back on July 30, Ms. Hearst told the Transom a very similar tale:
Ms. Hearst told of a recent whirlwind trip through Europe, where she was shooting the cover of Tatler, and an ad campaign for Roberto Cavalli for H & M—the last shot by photographer Terry Richardson alongside models Erin Wasson, Jessica Stam, Daisy Lowe and Theodora Richards. "A good little group," she said. "Roberto had a party at his house in Florence. Oh, my God, it's unbelievable. It's like no place you'll ever be for the rest of your life, it was so amazing—you could see all of Tuscany. It looks like it must be a hundred years old!"—errr—"and it's absolutely stunning. He has this incredible indoor pool that's surrounded by glass, and he has just acres upon acres of beautiful gardens and fountains and everything. I would love to go back!"
It appears that Ms. Hearst was holding out on us, though. She saved the trampoline. parrots, wildcats, flame throwers and pig roast for her own column (it's called "The Hearst Chronicles.") Our only question is: how many times has Lydia Hearst been to a giant photo shoot and party at Roberto Cavalli's in Florence in the last two months?
Other Hearst chronicles you may have missed: The picture above is her "Achilles' heel, forever floating on the Web." It's the main photo of her column, but there's no contradiction there: if we're correct and not just bad at the Internet, Page Six Magazine doesn't exist online.