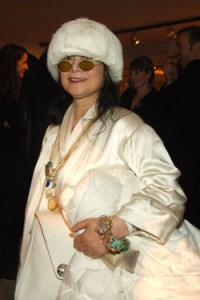 Last week, New York lost a great eccentric. Her name was Kazuko. You may well have encountered her. Maybe you saw her at Barneys and wondered who she was. I'm talking about that tiny exotic Japanese lady—with her long hair, voluminous white layered frocks and smocks she resembled an haute couture homeless person—who often manned the two jewelry counters that contained her wares at the Madison entrance to Barneys. Maybe you recall her cameo appearance in the movie version of Six Degrees of Separation.
What was so extraordinary about this pocket-size force of nature? Let's go back, way back, to the summer of 1986.
One steamy afternoon I was accosted on the sidewalk outside the Barneys windows on Seventh Avenue. I'm not complaining. Whether by unfragrant vagrants or happy hookers, being accosted on the sidewalk is one the great pleasures of living in Manhattan, the capital of interactive, spontaneous street theatre.
The accoster on this occasion was a little fairy shrouded in black Yohji silks. She told me her name was Kazuko Oshima, but everyone called her Kazuko. She was a one-namer.
Speaking with an educated Brit-Jap accent, she began an effusive appreciation of the window display that I was in the process of installing. This tableau featured a costumey 18th-century dress designed by the Emmanuels (they of Di's wedding frock fame) for Barneys on the occasion of the 100th anniversary of the Statue of Liberty. On the head of the mannequin I had placed a massive white wig, garnishing it with a thrusting galleon in full sail.
Kazuko said she liked the display, but felt it needed a veil. From her purse, as if by magic, she pulled a massive chunk of silk tulle, the edges of which she had painstakingly stitched with small rock crystals. She waited outside the window while I shooshed her creation over the head of the mannequin. Voila! We both agreed that it looked sugoi ("wow").
The tulle accessory was a big hit. Kazuko swung into production and began selling her ethereal scarves, one of which Madonna had worn in her "Like a Virgin" video, at Barneys. They quickly became the groovy accessory du jour. Ere long Kazuko graduated to crystal jewelry. Her bangles, pendants and brooches—large chunks of semi-precious stones caged together by gold wires—adorned flossy-flossy gals like Bianca Jagger, Mitsuko Uchida and Gloria Vanderbilt. Kazuko called her pieces "one-on-one healing sculptures." She believed they had salubrious properties. She believed in lots of kooky things.
Kazuko believed that by wafting her hand in front of somebody's torso she could release "bad energy." Kazuko believed that when Bobi, her one-legged canary, tweeted at her every morning he was telling her what she should wear on that particular day. Kazuko believed that wearing black was shriveling her internal organs ("my acupuncturist says I have the nun's syndrome from wearing black") and she switched to white about 15 years ago. Kazuko believed that certain people—usually they were boldfaced names such as Robert Frank, Anne Slater or Lucy Liu—communicated with her via "psychic brain messages." Kazuko believed that by treating her final battle with esophageal cancer as ART—she was 65 when she died last Friday morning—she could prevail.
Despite the fact that we were friends and collaborators for over 20 years, I had little in common with Kazuko. She was a New Age superfreak, whereas I have always been openly derisive about all that woo-woo stuff. I believe that everything is random and totally disconnected, and she believed that "everything happens for a reason." I love to sell things. She loved to give things away. I like order. She liked squishy, nonlinear softness. Our bond was based upon our mutual passion for frivolous adornment, and our delight in the absurdities of life.
This shared hilarity began when, not long after that first encounter, she told me that, once upon a time, she had understudied for actor Hervé Villechaize (the midget in the white suit in Fantasy Island) in an avant-garde play at La MaMa called Mink Marie. According to Kazuko, little Hervé was in a permanent snit because he had a nonspeaking part. As a result he often elected not to show up. This was great for Kazuko. She was the busiest understudy in town.
When Kazuko first came to New York from Japan in 1968, to study drama at N.Y.U. on a Fulbright scholarship no less, the town was knee-deep in freaks. They lived la vie bohème, little knowing that the loft spaces where they ate, shagged, staged their happenings and wrote their poems would, less than half a century later, be occupied by hedge-fund dudes and the like.
New York cannot afford to lose any more wackadoos. When a great eccentric leaves Manhattan, especially one as sweet, kind, talented and demented as Kazuko, one can only hope and pray that a new one, maybe some loopy Harajuku gal with Kazuko's extreme arty sensibility and lack of preconceived ideas, is waiting in the wings to take her place. Fingers crossed. New York is nothing without the Kazukos of the world.