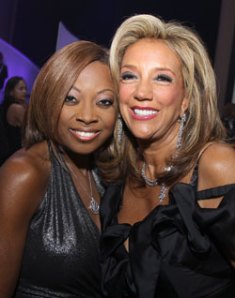 On Monday, Oct. 29, the irrepressible Don King was clogging up the entrance to his dear friend Denise Rich's Angel Ball, which benefits cancer research.
"Pretty women like Denise, you just like to be in close proximity to them," Mr. King said. "When you're in close proximity your heart rejoices."
How did they get to know each other?
"It's like in the poem, you know what I mean? You meet her in the spirit," he said semicoherently. "I knew her husband and I knew her. Her husband's in Europe. … But I'm here now, I came, I saw, I conquered—now we're gonna knock out cancer!" Whoo-hoo!
It was up several flights of escalator to the Marriott Marquis banquet hall, where rap mogul Sean "P. Diddy" Combs and chiseled actor Jason Lewis were among those circulating. The performer Joss Stone had climbed off the stage and was wading among the tables belting out something very soulful.
"I've know Denise since I first arrived in New York 22 years ago, we had mutual friends in London," said the socialite Anne Dexter-Jones. "She has such spirit, she's never missed one of my charity events."
Court TV persona Star Jones was also there. "She's one of my best friends in the world," she said of Ms. Rich. "Denise is as comfortable at a McDonald's as she is at Daniel. Trust me, we've been to both." Oh, we trust you, honey.