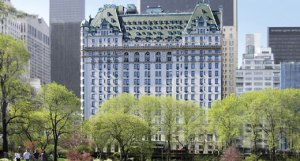 Earlier this month, after the Russian gambling titan Boris Belotserkovsky bought a $5 million condo at the Plaza, The Observer pointed out that his public criticism of President Putin might make things awkward between the casino mogul and his Plaza neighbor, Vladimir Stolyarenko, a banker with reported ties to the Kremlin.
But Mr. Belotserkovsky now has a new potential ally in the freshly redone 100-year-old building. Steven Theede, the ex-CEO of Yukos Oil, the energy giant that Mr. Putin helped flatten, closed this month on a 10th-floor Plaza spread.
He and his wife paid $7,920,581 and 5 cents, according to city records—which lists their home address at a 7,466-square-foot Houston house, built in 2004.
Mr. Theede, an American, turned down an interview request, writing, "[M]y wife and I have discussed this and would very much prefer to keep a low profile for privacy reasons, which I'm sure you would understand."
But Mr. Theede's profile hasn't been all that low. He became the COO of Yukos in 2003; yet, by the time he became CEO a year later, the company's billionaire owner, Mikhail Khodorkovsky, had been jailed on odd fraud charges.
When Mr. Theede resigned from Yukos last year, The New York Times said his tenure had brought Western-style "corporate legitimacy" to the company. Within a month, Russian authorities announced that he and three other Western executives were under investigation for using a Dutch foundation to illegally take control of Yukos assets. Mr. Theede has said that that came as payback for "not caving in" to Mr. Putin's government.
Whether or not he did anything wrong, Mr. Theede probably counts himself lucky to not be in the Siberian prison camp where his former boss is serving an eight-year sentence. They don't have an Oak Bar there, or the Plaza's 24-karat gold Sherle Wagner bathroom faucets.