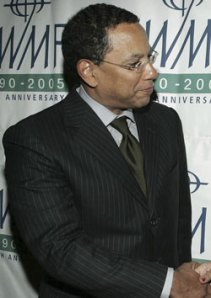 When Dean Baquet returned to The New York Times in March to run the paper's Washington bureau, the former editor in chief of the Los Angeles Times knew he'd be competing for political scoops with traditional foes like The Washington Post.
But soon, a less predictable adversary—and one that could prove a tougher challenge—will arrive on the scene. Over the past five months, Rupert Murdoch has publicly suggested that, once he officially takes over The Journal's corporate parent, Dow Jones, later this year, he intends to pour resources into the paper's DC operation.
So what does that mean for the Gray Lady?
Mr. Baquet, and several high-ranking Times editors interviewed by The Observer, said they are watching closely to see if Mr. Murdoch puts News Corp.'s money where his mouth is, and tinkers greatly with the paper's DNA.
"My guess is The Journal is not sure what they're going to do," Mr. Baquet said by phone on Oct. 8. "It's easy to say, 'I want to go head-to-head with The New York Times and Washington Post.' But what does that mean?"
Indeed, while The Journal remains strong on beats where government and business overlap—lobbying, for instance, or the Federal Reserve—the paper doesn't, say, have reporters assigned to every major presidential candidate, as The Times and Post do. Rather than cover every small political news development, The Journal has instead focused on less frequent but more deeply reported investigative pieces. Indeed, its coverage of electoral politics isn't even as comprehensive as it has been in years past, when Al Hunt oversaw the bureau. "The Journal has a different mission in life," Mr. Baquet said of the two papers.
One way in which The Journal might benefit from Mr. Murdoch's deep pockets is in personnel. Indeed, it already has begun to try to lure Times staffers away. Recently, The Journal approached Helene Cooper, who covers the State Department for The Times, to gauge her interest in returning to the paper where she used to work. Ms. Cooper is staying put.
But a Times Washington bureau staffer said that while they expect The Journal to try poaching colleagues, Mr. Baquet's arrival has improved the general mood and cut down on staff disgruntlement—quite a feat in a newsroom!
There are also internal discussions under way to beef up economics and regulatory coverage in the bureau, areas where The Journal is especially strong, according to Times staffers. There has even been talk of hiring a full-time lobbying reporter—a move that would clearly inch the paper closer into The Journal's wheelhouse.
Mr. Baquet said that he "would love to make the case for more reporters across the bureau" and has "wanted to compete on regulatory stuff." In such coverage, The Times, he said, has never had as many reporters assigned. Overall, he said, "you can't let the competition set your game plan. On the other hand, it's nuts not to watch the competition."
Still, it might be a while before The Journal is viewed as a day-to-day competitor at the paper's I Street headquarters. While numerous copies of The Washington Post are distributed throughout the Times Washington bureau, said one staffer, significantly fewer reporters receive The Journal. At this point, the staffer said, "it's not a must-read."