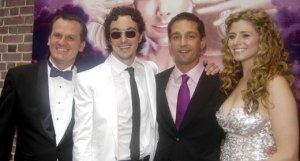 Variety reports:
"Xanadu" producers Tara Smith and B. Swibel are at work developing an updated, musical version of "To Die For," the 1991 novel and 1995 pic it inspired.
Joyce Maynard, who wrote the novel, is participating in the development of the tuner.
No creative team has been confirmed, although the project is not the same one as "Alive at Ten." That tuner by Kirsten Guenther and Ryan Scott Oliver, which has a similar premise, was workshopped at NYU over the summer.
Gus Van Sant directed the Columbia movie adaptation of "To Die For," which starred Nicole Kidman, Joaquin Phoenix and Matt Dillon.