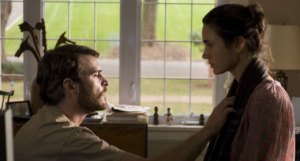 RESERVATION ROAD
Running Time 102 minutes
Written by Terry George and Jonathan Burnham Schwartz
Directed by Terry George
Starring Joaquin Phoenix, Jennifer Connolly, Mark Ruffalo and Mira Sorvino
Reservation Road is a suspenseful story of loss and revenge, about the different roads taken by two fathers after a tragic hit-and-run accident. Directed by master storyteller Terry (Hotel Rwanda) George—who wrote the economical, sharp-edged screenplay with John Burnham Schwartz, on whose novel it is based—it focuses on Joaquin Phoenix as a history professor with a wife (Jennifer Connolly) and two children, living in a suburb near Boston. One night as they drive home from a recital, another driver on his way home from a Red Sox game smashes their vehicle, kills their son and flees the scene of the fatal crash. Half-mad with grief and obsessed with finding the driver, Phoenix hires a lawyer (Mark Ruffalo) who is a divorced dad with a demanding ex-wife (Mira Sorvino) and a huge conflict of interest in the case. The grief-stricken father doesn't know it, but it's the lawyer who was the hit-and-run driver. He knows the law, but instead of facing the consequences with honesty and integrity, Ruffalo's character takes the cowardly way out, sinking deeper into a widening circle of despair and guilt that changes his life forever. I'm not spoiling any surprises. Since the audience knows the driver's identity from the first scene, the movie is not a whodunit, but a whaddya-do-about-it. Here is where the suspense comes in, with Phoenix getting closer to the truth, and Ruffalo trying to hide evidence and cover his tracks. The consequences of their cat-and-mouse game lead to a twist ending for all concerned that prevents Reservation Road from becoming another vigilante flick.
There is wonderfully nuanced work from the cast, and Mr. Ruffalo's body language, in particular, is a source of endless fascination. But the fine thing here is that nothing is black and white. The bad guy is not all bad, and the good guy is not a hero, and they both co-exist in the shadow of anguish. This movie probes your inner conscience without losing sight of its breathless entertainment value.