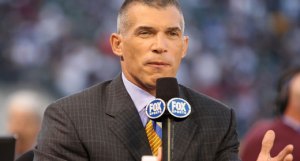 In an offseason so far dominated by high-profile departures, the Yankees finally got to announce an addition to the 2008 squad, introducing Joe Girardi as Joe Torre's successor to manage New York.
We know that Girardi accepted to a three-year, $7.5 million deal. But precisely what else he agreed to still remains unclear.
During a conference call on Tuesday afternoon, both Girardi and Hank Steinbrenner, the son of owner George Steinbrenner who appears to be running the team at the point, avoided questions about how active ownership will be in baseball decisions during a conference call Tuesday afternoon.
Girardi also chose not to go into detail about his clashes with ownership during a one-year stint as manager of the Florida Marlins. Despite exceeding on-field expectations and winning National League Manager of the Year honors in 2006, he was fired, after reportedly engaging in a shouting match with owner Jeff Loria.
"I never chose to go into the particulars of the Florida situation because I didn't think it would benefit anyone," Girardi said. "But I have learned the benefit of relationships, the benefit of sticking together. If you don't have that, it's not a great workplace."
He said he received no guarantees from upper management that the interference Yankee managers in the past have often had to deal with, and suggested that the best (only?) defense against a management team that tried to cut Torre's pay following 12 playoff appearances in 12 years would be to hold himself to the same standard.
"I have high expectations for myself and the players—I don't think the expectations up above will exceed that," Girardi said. "I'm wise enough to see when we're not playing up to potential, and I know from my time here as a player that you're going to hear about it one way or another."
Asked about the possibility of facing an ultimatum along the lines of George Steinbrenner's statement that Torre's "job is on the line" during the team's ALDS series against the Cleveland Indians, Girardi said, "I didn't ask for assurances, so I'm not going to worry about that."
Unfortunately for the Yankees, early indications are that Hank doesn't plan to worry about it either—he'll just do what comes naturally for George's son. He's already "personally insisted" that young pitcher Joba Chamberlain be moved to the starting rotation. The Chamberlain-to-the-rotation aspect shouldn't concern Yankee fans—it's probably a good move. It's the "personally insisting" part.
When asked which, if any, areas he'd leave strictly to his baseball people, Steinbrenner named exactly none.
"The big thing on Chamberlain situation is that it's something we all want at this stage, it's something our preference is," he said. "Bottom line is, that's all I can say. As for the situation with management in Miami, that has already been addressed by Joe." One question later, Steinbrenner followed up by saying, "Obviously, it's important I let Joe and Brian take the floor now."
For his part, Girardi expressed disappointment over losing M.V.P. Alex Rodriguez, while echoing the Yankee line that Rodriguez is completely in the past. (General Manager Brian Cashman reiterated this later in the call.) As for free agents Jorge Posada and Mariano Rivera, and Andy Pettitte, who has a player option, Girardi expressed hope that all three of his former teammates would return.
"Obviously, they're important Yankees," Girardi said. "All three of them had very good years. They're very good players. But sometimes things just don't work out. Those players will be approached by the Yankees, and hopefully something will be worked out."
Regarding Girardi's coaching staff, all that is known thus far is that Torre's bench coach, Don Mattingly, will not be part of it. Mattingly, a co-finalist for the manager position, said through his agent Monday that he would not return to the Yankees in 2008. Tony Pena, the Yankees' first base coach who was the third man interviewed for the position, indicated that he wished to return in 2008, according to Cashman.
"It's not a situation where I will dictate which coaches Joe can hire," Cashman said. "I didn't do that with Joe Torre, and I won't do it with Joe Girardi."
On this point, too, Hank Steinbrenner remained silent.