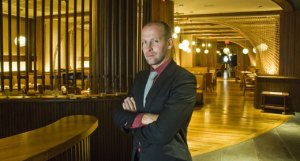 Location: So, you're a busy guy. On the restaurant side, you operate MercBar, Lever House, Lure Fishbar and Chinatown Brasserie. You're also the publisher of glossy CITY magazine, found in W hotel rooms nationwide. And, you market your own energy drink called "E-Boost." I presume "Pimp Juice" was already taken, then?
Mr. McDonald: That would be classic.
Oh, it's a real product. Hip-hop star Nelly already put it on the market.
Somebody should.
Tell us about your latest project, the massive overhaul of restaurant Brasserie 44 in the Royalton Hotel. (The restaurant reopens later this month.)
What was challenging and made it really worthwhile was, I wanted to program the entire lobby, not just have a restaurant in the lobby. That was my real estate, so to speak. And [Royalton owner Morgans Hotel Group] agreed. For me to have a restaurant in there, I think it's very important that I can strategically and creatively help program how the whole experience in the lobby is going to be—from the door to the bar to the restaurant, and the service mentality of all that—so that the experience is consistent.
Otherwise, if I had people sitting in the lounge-bar area and they had a bad experience, it would reflect poorly on both the hotel and the restaurant. I wouldn't have done it had it just been the restaurant.
How much control did you actually have?
Working with the architect, working with the people from Morgans, it was a very friendly, collaborative effort. After 20 years, what was there really needed to be completely changed to pay respect to what it was.
How so?
Well, the hotel company could've said, 'Let's bring back [original architect] Philippe Starck and have him redo the lobby.' But they couldn't use Philippe because Philippe is on an exclusive deal. Given that that wasn't an option, it was important from my end to make an entirely new lobby. It can't be 70 percent. This is really the second generation of this brand. There certainly will be some people who will say, 'Oh, it would've been nice to keep.' But it's a different market.
The hotel business is drastically different. There's a lot more competition among boutique hotels. When they first opened the Royalton, there was virtually none. I think Ian [Schrager], who was really the godfather of the hip hotel, would agree that you have to evolve. You can't leave it the same just for the sake of leaving it the same.
What's it like, following in Philippe Starck's footsteps?
He deserves the credit for bringing attention to the property and to the name. And that's what made me really want to do it. It wasn't just another random property. It was a very important site. It was the 20-year anniversary. And it was at a crossroads where you have to decide what's your statement going to be for the next decade.
So, what is your statement going to be?
Roman and Williams, the architects, they really created something that has a timeless sensibility, very warm, much more intimate. They created a lot of different little vignettes, little pockets where people can gather, whereas before the lobby was this very open runway, kind of separatist mentality. Not cold, but if you look at the pictures, it was a very high-impact, intimidating experience. It was really like walking down a runway. Everybody in the lobby was watching you. 'Who's checking in?' It's still very sexy, very stylish. But there's a new level of intimacy and warmth. There's a huge fireplace to the left when you first walk in.
Aside from the aesthetics, we will be focused on the product. We're building a world-class wine list. We have a top-notch young chef, Scott Ekstrom, who is someone that I think is going to be a great star. He was at Daniel and Oceana.