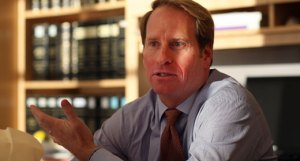 Location: When you took over Helmsley-Spear earlier this fall, you told the New York Post, 'Frankly, one thing I hope to bring is a new energy, focus and discipline to allow the company to expand.' What do you mean by a new focus and discipline? And what about expansion?
Mr. Swig: I think that the company has had an excellent tradition for years and years and years. It started in 1866, and had risen to one of the largest probably better-known real estate companies in the country, operating all over—I think they had 45 offices across the United States. And, over time, there were partnership issues and other things going on. What I was reacting to was the company had risen to a very great level and was no longer operating at that level.
So, I wanted to be able to bring in new energy to the company itself; a focus of growth and opportunity; and a new discipline, meaning what we are doing or what we are, in fact, doing right now is bringing a new level of infrastructure to the company—so, new computers, new software, very advanced accounting systems and property-management systems for third-party businesses, and a new marketing and advertising program; and human resources.
Is the goal to compete with the likes of CB Richard Ellis and Cushman & Wakefield?
Today, absolutely not. CBRE and Cushman & Wakefield are worldwide companies. Right now, Helmsley-Spear operates in New York City; and I think what we'd like to do is to reorganize and reenergize the firm and bring all the sophistication we can to the firm. … Once that's set, which will take 60 to 90 days at the longest, then we start to grow the firm.
First, we grow in New York City. And New York City right now is certainly the largest city in terms of office space in the United States. If you add it up: downtown San Francisco, downtown L.A., downtown Philadelphia, downtown Boston, downtown Washington, D.C., and downtown Chicago—the six largest cities [together in terms of office space] outside of Manhattan, you don't equal Manhattan. So, I think there's a huge opportunity here in its home base first.
And then normally we'd look at concentric circles of growth. You'd start in New York City; you'd go to Boston, Washington, etc., going from a regional point of view, which would make more sense. The one exception would be San Francisco, because I'm from there, I have properties there, my family has property there, and Helmsley-Spear, believe it or not, was a very big entity out there at one point.
With the Helmsley-Spear acquisition, you've now dipped into virtually every aspect of New York City real estate—office and residential landlord; office and residential developer; sales brokering, as co-owner of the company that owns Brown Harris Stevens and Halstead Property; and now management with Helmsley-Spear. Do you feel overextended?
If it were I alone, it would be disastrous. We've got a phenomenal staff all-around.
Is this sort of the path for real estate in New York, this consolidation?
I think operating companies in general over the last 15 years have consolidated. I would say that real estate operating companies were probably one of the least-consolidated industries in the United States. If you look at the soft drink market or you look at paper production or look at glass manufacturers or you look at overnight mail distributors—there are a select four, five companies that basically control the market share throughout their particular industries.
If you look at the real estate industry, especially the residential sales industry, nobody really had a 1 percent consolidation control of the marketplace 15 years ago. And the trend today has been shifting into consolidation, actually, and, frankly, naturally—because, in order to compete today in advertising dollars, telecommunications and computer technology, payroll, etc., etc., the cost of doing business is very, very great.
The Sheffield rental-to-condo conversion at 322 West 57th Street was quite a slog—lawsuits by market-rate tenants, the asbestos in the ceiling, a work-halt order and a marching band during a demonstration. First of all, is it true that you hired a 20-piece marching band to drown out demonstrators?
Let me go through it in order. There was no asbestos in the ceiling ever. There was a claim. We had done over 2,124 individual tests for asbestos in the building and we were one of five groups: Our bankers did that when we first bought the building and repeatedly after; the Department of Labor from New York State did testing; [the city] Department of Environmental Protection [DEP] did testing; OSHA [the Occupational Safety and Health Administration] on the state level did testing; as did we. Five different groups did all these tests.