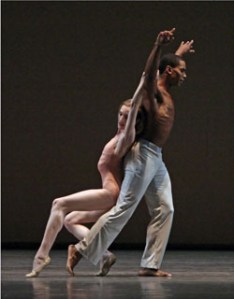 What have we New Yorkers learned from our first exposure to Christopher Wheeldon's new ballet company, Morphoses/The Wheeldon Company?
We've learned (or have been reminded) of how ambitious Wheeldon is. At City Center, he gave us two full—much too full—programs, made up mostly of his own work.
We've been reminded of how skillful he is—even his emptiest pieces are carefully composed, intelligent and fluent; and if he's pretentious at times, he's never trashy.
And we've been reminded of how talented he is, at least in the one major work of his that he chose to show us: Morphoses itself. This was the second superb ballet to Ligeti that he made for New York City Ballet (whose resident choreographer he's been for seven years); following Polyphonia, it seemed to promise not just a successful career but an important one.
Like Polyphonia, Morphoses was a revelation of Wendy Whelan's singular qualities—her astringent angularities and sinewy command—and she remains riveting in it, even if that astounding rope of backward bourrées was ever so slightly eroded from what we saw five years ago. Although Morphoses is built on two more or less equal couples, Whelan is the heart of the ballet. In the original City Ballet cast, the second ballerina was the more lyrical Alexandra Ansanelli, who looked pallid mirroring Whelan's extreme dance profile; this time around, Sterling Hyltin seemed almost too centered, too classical—a contrast rather than a mirror. But who would look right in this role? Whelan is unique—everyone is in contrast to her.
It was a pleasure seeing this powerful and moving work on the more intimate City Center stage. Alas, it is dispiriting to have to acknowledge that nothing else of Wheeldon's approached its level of achievement.
There were two extended pieces new to New York. The first, There Where She Loved, was made in 2000 for Britain's Royal Ballet, and Wheeldon chose to set it to songs by Chopin and Weill. Perhaps the words to the songs justify this concept, but we weren't provided with the words; musically, it was peculiar, although the contrast of soprano (Chopin) and mezzo (Weill) was effective. The ballet itself was soporific and endless. All that kept me awake was registering the countless references to Robbins' Dances at a Gathering: This wasn't influence at work, it was imitation. But—no surprise—the dancers were beautiful; with two exceptions, the cast of 11 represented the cream of City Ballet. No wonder Wheeldon thanked Peter Martins so effusively in his pre-performance speech.
The second new piece, made this fall and premiered in London, was called Fools' Paradise, and was danced by eight current and one former City Ballet dancer. (The "ex," Aesha Ash, was a very welcome sight.) The commissioned score, by Joby Talbot, was throbbingly dramatic and at almost constant high pitch, and it ignited Wheeldon's interest more than the Chopin-Weill combination did. But it was the fifth piece of his on the first program, and he simply doesn't have the breadth of vocabulary and range of tone to keep you responsive. All these men and women clashing and resolving, clambering and rolling! Less would have been a whole lot more.
Wheeldon tried to lighten the mood with the little Dance of the Hours that he made for the Met's La Gioconda last year, but whereas it fit charmingly into the opera—right style, right feeling—here it jarred. (It looked like a sop thrown to lovers of 19th-century ballet.) And the mini-corps (the only corps on view) was made up of eight of the most ill-assorted girls ever assembled on a stage. Was this meant as spoof? Luckily, Ashley Bouder was her usual brilliant self, slashing and prancing across the stage, and her partner was the splendid Gonzalo Garcia who's just joined City Ballet as a principal. Garcia is what City Ballet's been lacking: a male who's not only strong, handsome and technically impeccable but also an artist.
Another extended piece, Mesmerics (2003), had a rich Philip Glass score that was powerfully performed by the FLUX Quartet and eight onstage cellists gleaming out of the dark. (One of the big pluses of the season was the live music, featuring the Orchestra of St. Luke's, excellently led by Rob Fisher.) The music was the most mesmerizing aspect of Mesmerics, otherwise it was more of the same: glamorous bodies, inventive if predictable steps, sex-for-a-youthful-audience message. We'd already seen it all in Wheeldon's other extended pieces and the two pas de deux that served to justify importing some high-voltage overseas stars: Darcey Bussell, Jonathan Cope and Alina Cojocaru.
There was a pas de deux by Edwaard Liang, as derivative and pointless as everything of his I've seen; another by a Brit named Liv Lorent—all slo-mo and floaty (but not stupid) in the dark. And a solo by Michael Clarke featuring one of the Ballet Boyz, William Trevitt, that was about nothing at all. (King Lear said it—"Nothing will come of nothing"—and King Lear was right.) The best by far of the un-Wheeldons was William Forsythe's neo-classical Slingerland Pas de Deux. I don't usually admire Forsythe, but the reality is that experienced, talented choreographers—and he's one—never do less than professional and respectable work, even if goes against your grain. The work of wannabe choreographers is purely generic: irritating padding on a program already overstuffed.