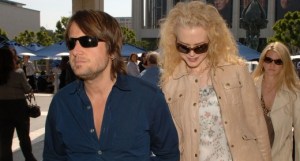 Nicole Kidman has publicly confronted the possibility that her marriage to country Kiwi musician Keith Urban, who has been battling a substance abuse, might not make it into the hereafter.
In a recent interview with US magazine, Ms. Kidman, 40, explained:
"You never know where something's going…My husband and I are committed to each other and deeply in love. That's how I would put it. We are working on staying in that place and hopefully we will for the rest of our lives."
She then went on to refute the interviewer's insistence that the couple seemed happy together. "I don't ever say that," Ms. Kidman reportedly said.
Nicole Kidman is deeply in love, but not happy [Daily Mail via Huffington Post]