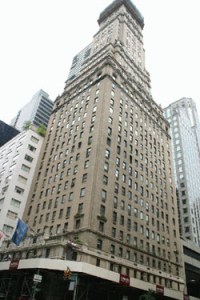 By the time Warren Alpert died this March, his private oil business was doing $2 billion in sales annually. Considering that he grew up in the 1920's in a clapboard house outside Boston, one might think he'd have chosen to spend his latter years in massive onyx-clad opulence.
But his two co-ops in The Ritz Tower at 465 Park Avenue were sold off this month for relatively petite sums. A two-bedroom apartment went for $1.4 million, city records show, and a fourth-floor studio/storage space sold for $175,000.
In contrast, he gave $100 million to Brown University's medical school just before his death, which added to his $15 million Mount Sinai Hospital donation, plus the $20 million he gave to Harvard in 1993. "I want cures for Alzheimer's disease, cancer, AIDS," he said at the time.
Considering the $135 million in donations and his $1.575 million apartments, the Warren Alpert Ritz Rule hereby stipulates that all New Yorkers must donate 85 times what their real estate is worth.
According to an obituary, his home at the Ritz was his only luxury. Yet the main apartment hadn't been renovated in a number of years, according to Ritz Tower managing director Richard Veffer, especially due to his declining health. His estate's buyer, listed in city records as Cohen Brothers Realty, an uptown office building firm run by developer Charles S. Cohen, will be gut-renovating.
The place has just two bedrooms and a small kitchen: "Most of the apartments have small kitchenettes because we have room service here," Mr. Veffer said. "He would take advantage of that for lunch and dinner." (An in-house menu posted online features double lamb chops with mint, plus steak au poivre with cognac sauce.) Mr. Alpert also took housekeeping every day, and paid a bellman extra to deliver mail to his office nearby, according to Mr. Veffer.
But, really, as far as oilman decadence goes, that's not quite depraved.