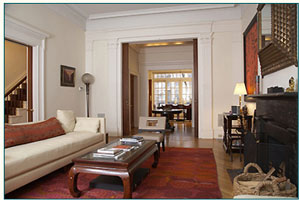 This January, after 62 months, heiress Libet Johnson sold off an $18.5 million penthouse at Trump International on Central Park West, the last chunk of the 20,000-square-foot sprawl she'd once had at the building.
But it took her much less time to shake her 162-year-old, 25-foot-wide townhouse at 19 West 12th Street. She bought the house from Meryl Streep in October 2005 for $9.1 million, and by early this year it was on the market for nearly $16 million. According to city records, she went to contract in June and closed late last month for $12.85 million, selling to an investment trust.
The listing brokers, Brown Harris Stevens managing directors John Burger and Paula Del Nunzio, would not comment on the deal.
But Mr. Burger was willing to describe the house: "Wonderful detail, excellent sunlight, and magnificent space," he said. That hyperbole is justified: There's a two-tiered, 54-foot backyard garden, plus a north-facing skylight hanging over the fifth-floor bedroom, plus a second skylight over its en-suite bathroom. On the other hand, the master bedroom two floors down has a wood-burning fireplace (and there are two more of those on the parlor floor below.)
Ms. Streep made a nice profit from the house, too, selling to Ms. Johnson for over four times the $2 million she reportedly spent in 1995. Earlier that decade, the townhouse was owned by a trust belonging to another theater legend, the Playbill founder Gilman Kraft.
But Ms. Johnson didn't move in after the 2005 purchase. According to a source, she lent the house to Michael Douglas' ex-wife Diandra and her new husband, guitar maker Michael Klein. So where will they go now that Ms. Johnson has sold the place off? They've reportedly bought a $15.25 million townhouse on East 65th Street, which Ms. Del Nunzio happens to have co-listed.