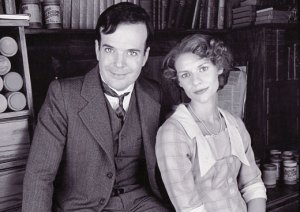 "There was a thought before we went into rehearsals, I was thinking, 'Hmm, I wonder how she's going to be in front of 750 people, eight nights a week,'" said Tony-award-winning stage actor Jefferson Mays, who was discussing working with doe-eyed My So-Called Life alum Claire Danes in her Broadway debut in Pygmalion, the Roundabout Theatre Company production at the American Airlines Theatre. "But, remarkably, she's such a natural at it. I continue to be blown away by her style and grace," he said on the phone with The Observer, in a nearly British-sounding Connecticut accent.
Based on George Bernard Shaw's original 1916 play, Pygmalion features Mr. Mays as Henry Higgins, a uncouth phonetics professor with a sweet tooth, who makes a bet to turn a disheveled, cockney flower girl (Ms. Danes, as Eliza Doolittle) into a soft-spoken, well-mannered socialite. "In his treatment of people, he seemed to be such a creature," Mr. Mays explained about his career-oriented character. "He has a rather narrow, blinkered, academic view of the world." For inspiration, Mr. Mays dredged up thoughts of the academic types from his undergrad years at Yale and imagined Mr. Higgins tinkering with gadgets like BlackBerrys.
"We approached the play freshly," Mr. Mays said. Neither Ms. Danes nor Mr. Mays had read the Shaw play or seen the 1964 musical adaptation My Fair Lady with Audrey Hepburn and Rex Harrison. "We were babes in the woods together, as you would call it."
Pygmalion is now playing at the American Airlines Theatre, Tuesday through Saturday at 8 p.m., and Wednesday, Saturday and Sunday at 2 p.m. Tickets: 212-719-1300 and http://www.roundabouttheatre.org.