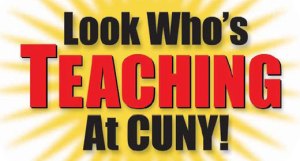 The ads are everywhere, shouting at you from newspapers, Web sites and subway walls.
"Look Who's Teaching at CUNY!" say the starburst-adorned banners, while the university's celebrity professors pose stiffly above their impressive academic bona fides.
Here's U.S. Poet Laureate Charles Simic, a distinguished visiting professor at Baruch College, looking brainy and confused as he zips along on a bus billboard.
There's his beloved poet predecessor, Lehman College distinguished professor Billy Collins, hand pressed to chin, nestled in an ad in the Daily News somewhere between "Jets lay egg vs. Eagles" and "Me-Wow!"
And there's Chancellor Matthew Goldstein, right alongside some catchy quotes: "World-class talent. Award-winning scholars. CUNY is their classroom. CUNY is your University."
To judge by the ads, CUNY is the academic equivalent of the Waverly Inn.
Except, of course, it isn't.
The university is the largest system of its kind in the country, employing more than 15,000 professors, most of them in positions (and pay categories) that are far from glamorous.
The ads are part of a sweeping effort to publicize the system's striking comeback after decades of declining enrollment and minor-league prestige.
Enrollment has risen dramatically since 1999, when then-Mayor Rudy Giuliani declared the university "an institution adrift," as have the SAT scores of incoming freshmen. The Graduate School of Journalism opened to accolades last fall, John Jay College is in the midst of a $350 million expansion, and the William E. Macaulay Honors College is slated for a new permanent home thanks to a $30 million individual donation from Mr. Macaulay himself.
But the ad campaign has not sat well with everyone at the school.
For a union representing the anonymous workhorse academics who make up the vast majority of the staff, the publicity push has become a slight—not to mention fodder for satire.
"Look Who's Not Teaching at CUNY!" reads one in a series of spoof ads from CUNY's professional union, whose contract recently expired.
The GC Advocate, the bi-monthly student newspaper of CUNY's Graduate Center, featured celebrity professor Mr. T, "Distinguished Professor, Foolology," in its October issue, plus a number of suggested variations on the campaign: "Look Who Used To Teach at CUNY!" (Bell Hooks, Louis Menand, David Kazanjian), "Look Who's Subcontracting Security Services to CUNY!", "Look Who's Preventing More Tenure-Track Positions from Being Created at CUNY!" and "Look Who's Performing Custodial and Janitorial Duties at CUNY!"
The underlying message: CUNY, rather than touting its superstars, needs to tend to its bread and butter—that is, non-celebrity full-time professors, adjuncts, grad students and miscellaneous part-timers.
Union leaders have complained of low salaries, pointing to a union-generated sample of faculty pay at 206 similar universities, in which CUNY places 170th. The average assistant professor at the CUNY Graduate Center earns about $56,800, while similar positions at NYU and UC Berkeley fetch $85,900 and $76,200 respectively.
(More expansive data from the American Association of University Professors, meanwhile, shows that it's all relative: Salaries for most senior college assistant professors at CUNY are in the top 80th percentile compared with universities nationwide.)
The effort is "promoting a small number of programs and making very visible a few highlights of the university into which they pour a lot of money," said Barbara Bowen, president of the Professional Staff Congress, the union representing more than 20,000 faculty and staff. She added, "It's a very misleading campaign."
Both the professional union and The CUNY Graduate Center Adjunct Project, a group dedicated to enlightening students to the plight of part-time faculty, are planning demonstrations timed to coincide with a national "Campus Equity Week" from Oct. 29 to Nov. 2.
The university defended the ads as a necessary effort to inform the public about its most valuable assets. Michael Arena, CUNY's director of communications and marketing, sent an email, which read, in part: "There are a few cynics who resent the attention being given to outstanding educators that is normally reserved in our society for people from other walks of life. However, the true measure of a great University is the quality of its faculty."
The featured professors, too, see the campaign by and large as a logical attempt by CUNY to sell itself to a wider audience.
"It's always had a social mission, which has always been to educate the immigrant population of New York City," Mr. Collins, the former poet laureate who has been a CUNY professor for 35 years, said recently. "I think it has, in the minds of certain elite people, created a kind of visibility problem. I guess the whole 'Guess Who's Teaching at CUNY' ad campaign is really to shed a spotlight on the fact that CUNY has as distinguished faculty as any university in America and to raise its faculty visibility to a greater degree."
Mr. Collins, like most of the A-list CUNY professors interviewed for this story, is oblivious to any strife the publicity blitz has occasioned. Opting to "stay out of that controversy," he described the campaign as "bold" and "colorful," and commended its catchphrase for having "a nice colloquial ring to it."
Mr. Simic—who once wrote, "Words make love on the page like flies in the summer heat and the poet is only the bemused spectator"– hasn't even seen the campaign. "I had no idea about the ad," he said in a recent phone interview from his home in Strafford, New Hampshire. "I was hired to be the writer-in-residence maybe like late last spring, and since then, I also became the poet laureate. So they decided to put me in the ad. I've heard about the ad. I know there are big ads, but I'm in New Hampshire. Where am I going to see the ad?"
Mr. Simic will lead his first course this spring, a poetry and reading workshop for starry-eyed undergrads, who are probably dusting off their rhyme dictionaries at this very moment.
John Corigliano, the composer and Lehman College and Graduate Center distinguished professor whose foray into subway fame consists of a picture of him with a middle-aged male graduate student, stumbled upon one of his billboards earlier this year. It was freshly decorated with thumbtacks, a mustache and a question: "Are you two married yet?"
"I just loved it," Mr. Corigliano recalled. "That's when you really know you made it in the world."
His reaction at the time was distinctly that of a non-celebrity: he grabbed his camera and took a picture.