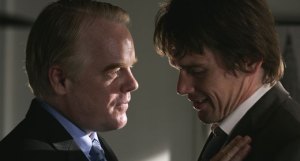 BEFORE THE DEVIL KNOWS YOU'RE DEAD
Running Time 123 minutes
Written by Kelly Masterson
Directed by Sidney Lumet
Starring Philip Seymour Hoffman, Marisa Tomei, Ethan Hawke
Sidney Lumet, 83, cements his reputation as a world-class director with Before the Devil Knows You're Dead, a botched-heist thriller with labyrinthine plot twists, suspenseful character revelations and out-of-sequence narrative elements befitting a grand opera mounted on a massive scale. Two scummy losers who are also brothers plan to rob their family's jewelry store. Andy (Philip Seymour Hoffman) needs money to pay back what he has already stolen from his real estate office, feed his drug habit and pacify his restless slut of a wife (Marisa Tomei), who is also sleeping with his kid brother Hank (Ethan Hawke). Hank, with child support payments and a vicious ex-wife (Amy Ryan again), nervously drags in an accomplice (the always fascinating Brian F. O'Byrne) who accidentally kills a store employee, unaware she is the siblings' own mother (Rosemary Harris), then dies in the gunfire himself. While his murderous family tracks them down, the father (Albert Finney) plots revenge on the robbers who killed his wife, not knowing the killers are his own sons. One snafu follows the next, until rage, fear and grief consumes them like a Greek tragedy. If anyone is still alive at the end, I forget which one it is.
It's good to see Lumet return to form, but be forewarned: the movie begins with hundreds of pounds of Philip Seymour Hoffman, stark naked, humping away at poor Marisa Tomei in a pool of sweat. It's a sight not unlike a Sumo wrestler attacking a Barbie doll. Hoffman is a good actor, nolo contendere, but this is a vision grotesque enough to send you flying to the exit doors.