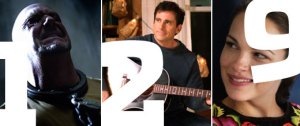 Heartbleeders, both literally—ew!—and metaphorically—aw!—speaking, ruled over the weekend. Saw IV (No. 1) grossed over $32 million nationally and averaged over $53,000 at 8 theaters in the city, while Dan in the Real Life (No. 2) took in a respectable $12 million in national receipts, and did similarly respectable business in the city with an over $23,000 average on 8 screens.
Perhaps there is a little surprise that Steve Carell and his second foray into serious acting couldn't pull stronger in the city, but the film did around the business its reviews suggested: above-average. A film that defied expectations, including those of the critics, was Bella (No. 9), a drama set in New York City surrounding a pregnant hostess and a mysterious chef, who seeks to help her. Apparently targeted at Christians and Latin-Americans by Roadside Attractions, the film, which was directed by first-timer Alejandro Gomez Monetverde, averaged a surprisingly strong $36,000 in the city. If the film can keep this up, it'll be another example (See Tyler Perry's Why Did I Get Married?) of how intelligent niche fare can be successful despite the opinions of the mainstream press or expensive publicity campaigns.
The rest of the holdovers behaved predictably. Michael Clayton (No. 3), in its fourth week, Gone Baby Gone (No. 4), in its second, and The Darjeeling Limited (No. 7), in its fifth, saw very modest declines in overall box office, while 30 Days of Night (#5) and Tyler Perry's Why Did I Get Married (#6) dropped a bit more precipitously, but maintained healthy B.O. due to a lack of competition.
Notably absent from this week's top 10 are Sidney Lumet's Before the Devil Knows You're Dead and Ryan Gosling's Lars and the Real Girl. Before the Devil, starring Philip Seymour Hoffman and Ethan Hawke, received stupendous reviews and according to Indiewire did very well on two screens, one of which happens to be at the Angelika, the other in LA. As it expands, it should be able to break into the table. Meanwhile, Lars is currently in its third week and showing in 5 theaters in the city, but has yet to crack our top 10. Take from that what you will.
This week's Straight-to-Netflix-Queue Award has two recipients: Jonathan Demme's Jimmy Carter Man From Plains and Alison Eastwood's Rails & Ties starring Kevin Bacon. Both mustered anemic averages at very few theaters. I guess another Eastwood will be pulling the plug this Awards Season.
List of theaters: Paris, Zeigfeld, Oprheum, East 85th St., 86th St. East, 84th St., Lincoln Plaza, 62nd and Broadway, Lincoln Square, Magic Johnson, 72nd St East, Cinemas 1, 2 &3rd Ave, 64th and 2nd , Imaginasian, Manhattan Twin, First and 62nd St., Angelika Film Center, Quad, IFC Center, Film Forum, Village East, Village Seven, Cinema Village, Union Square, Essex, Battery Park 11, Sunshine, 34th Street, Empire, E-Walk, Chelsea, 19th Street East, and Kips Bay.
Manhattan Weekend Box Office: How moviegoers in the multiplexes of middle America choose to spend their ten-spot is probably a big deal in Hollywood. But here in Manhattan, the hottest movies aren't always the ones making the big bucks nationwide. Using Nielsen numbers for Manhattan theaters alone and comparing them to the performance of the national weekend box office can tell you a lot about our Blue State sensibilities. Or nothing at all! Each Monday afternoon, we will bring you the results.