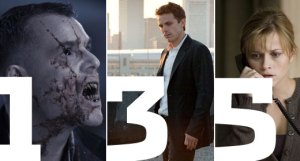 New Yorkers hate the Red Sox. To suggest that New Yorkers also hate Red Sox fans is therefore a bit tautological. But this weekend, New Yorkers—lots of them—defied the national trend and went and saw Gone Baby Gone (#3), which was written and directed by the most famous Sox fan apart from John Kerry—what auspicious company!—Ben Affleck. While it failed to outgross (double entendre alert) vampire flick 30 Days of Night (#1) and that other movie about blood suckers, Michael Clayton (#2), it may be a sign that New Yorkers are maturing, willing to let bygones be bygones. Nah! No idea why people chose to see this movie. Not having Ben star in it couldn't have hurt …
It is a small victory for the film, which had a rough opening, averaging $3,500 on 1700 theaters. According to Variety, both Miramax and Fox Atomic with The Comebacks claimed the number 5 spot in the country. Considering the sports movie spoof was playing on over 1000 more theaters than Baby (and they're competing for fifth place), neither studio should be too proud. But I guess no one wants to finish behind The Comebacks. In defense of New York, The Comebacks did not even crack our top 10. It's awards season, baby!
Another film with a rough opening, Rendition (#5), starring Jake Gyllenhaal and Reese Witherspoon, can take some solace from doing decent business in the city. But all signs—a $13,000 per screen average in its first week, it's number 5 slot despite playing on 9 theaters—point towards doom. I think someone needs to go back and check the trailer for clarity. Does anyone know what the hell this movie is about? Is Gyllenhaal supposed to be a terrorist? Is Witherspoon tortured for being so cute? So confused … perhaps it's best to stick to the tabloid coverage of the May December romance of the two leads.
Both Tyler Perry's Why Did I Get Married? (#4), in its second week, and Darjeeling Limited (#6), in its third, showed some traction, posting modest declines while maintaining healthy per screen averages, $22,000 and $11,500 respectively. The same, however, cannot be said for Elizabeth: The Golden Age, which experienced a 57 percent drop in box office receipts in its second week.
Tim Burton's The Nightmare Before Christmas in Disney Digital 3-D (#9) did extremely well for a re-release, playing on a meager 4 screens, but averaging over $20,000. It's a smart bit of alternative programming with the glut of serious fare out there. Beyond good movies, parents always love a movie they can take their kids to.
List of theaters: Paris, Zeigfeld, Oprheum, East 85th St., 86th St. East, 84th St., Lincoln Plaza, 62nd and Broadway, Lincoln Square, Magic Johnson, 72nd St East, Cinemas 1, 2 &3rd Ave, 64th and 2nd , Imaginasian, Manhattan Twin, First and 62nd St., Angelika Film Center, Quad, IFC Center, Film Forum, Village East, Village Seven, Cinema Village, Union Square, Essex, Battery Park 11, Sunshine, 34th Street, Empire, E-Walk, Chelsea, 19th Street East, and Kips Bay.

Manhattan Weekend Box Office: How moviegoers in the multiplexes of middle America choose to spend their ten-spot is probably a big deal in Hollywood. But here in Manhattan, the hottest movies aren't always the ones making the big bucks nationwide. Using Nielsen numbers for Manhattan theaters alone and comparing them to the performance of the national weekend box office can tell you a lot about our Blue State sensibilities. Or nothing at all! Each Monday afternoon, we will bring you the results.