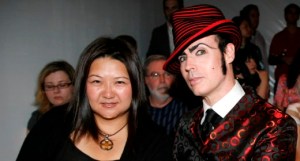 The yet-to-actually-happen Supper Club New York (an exclusive group of posh partiers, not a place), has successfully seduced some 300 media and socialite types into becoming founding members. To celebrate, the cliquish eating club will officially launch on Tuesday, October 23, with a big party at the National Arts Club.
An exclusive release sent to the Daily Transom today reveals the identities of several early-bird members, who had been preparing to sup under the media radar. New York "Ambassadors" include swish social bunnies like Susan Shin, Avenue magazine columnist Peter Davis, Elle's Kate Lanphear, Lyman Carter, Patrick MacDonald and Mark Langrish. Backing up such higher-ups are the Supper Club New York's founding members: James Blunt, America's Next Top Model's Nigel Barker, stylist Edward Enniful, Anthony Todd, fashion designer Andrew Buckler, Men's Vogue editor Hudson Morgan, stylist Kate Schelter, Luigi Tadini, Jennifer Missoni and Brooke Geahan among them.
The launch party invitation was printed on the inside of an over-sized matchbook-an indiscreet move that, strangely, manages to covey the club's shhhh-this-isn't-for-just-anyone vibe. It was sent to some 500 people, which comprise a mix of club ambassadors, founding members, press and "friends" (very, very good ones, apparently). The evening's host and the founder of the Supper Club in London and New York is someone called Tamsin Lonsdale, who is apparently "London Society's best-kept secret," according to her publicist.
From the release:
The Supper Club is an exclusive membership-only social and dining club in one, which hosts events at the newest and most alluring establishments throughout New York City. Founded by London Society's best-kept secret, Tamsin Lonsdale in 2005, this club with its unique mix influential artists, entertainers, socialites, and entrepreneurs, imports her taste for fetching cuisine and company to Manhattan's dining scene in October 2007. Once accepted, new members immediately have access to everything from small intimate dinners to large parties and unique events at New York's new hot spots and established venues. When not at an event, members can log in to the "members-only" part of The Supper Club's website to see more about or contact other members in both London and New York. Members will also enjoy exclusive preferential treatment and price breaks on hotels, activities and airfare with Supper Club New York's exclusive partner pairings.