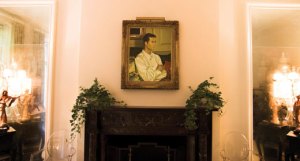 It always seems as if a murder has just taken place when you walk into a room with off-white carpeting, peacock-blue chairs with tight silk bodices and a winking crystal chandelier. Perhaps the police are even there measuring a body.
Invariably, grand, formal settings seem to give rise to wicked events. Philip in Alfred Hitchcock's Rope getting undone and shouting, "I never strangled a chicken in my life. … I never strangled a chicken and you know it!" Philip and Brandon, who live in this type of luxurious apartment, get all Leopold-and-Loeb-y and kill their friend David during cocktails because they consider themselves superior to David and plus they want to commit the perfect crime, and later David's body is in a chest while the other guests are eating and chattering about theater tickets. Then there is Hitchcock's Dial M for Murder, Otto Preminger's Laura and so many others (like the upcoming film The Walker, with Lily Tomlin flipping through upholstery swatches with a cold eye)—all with murder so fitting in satiny places with good linens. Is it because cool, calm, collected sofas and chairs and rare Chinese vases seem like fittings collaborators in the act? Or because the low act of murder is so surprising in stately, noble and exalted rooms (as opposed to in a tenement with tatty wallpaper), rooms that by nature should remain undisturbed?
Jared Goss, associate curator in the department of Nineteenth-Century, Modern, and Contemporary Art at the Metropolitan Museum, was completely oblivious to these thoughts on a recent afternoon as he flipped through a book on Ivan Fomin, the Russian architect, in the living room of his co-op apartment in an elegant neo-Georgian house on the Upper East Side. Mr. Goss's only apparent crime seems to be the unstoppable hunger to buy first editions online. Built in 1929 by society architects Cross and Cross for George Whitney—"the first man ever arrested for insider trading," Mr. Goss said—the house apparently "told him" how it wanted to be furnished, whispering: "Neo-Georgian but not strictly, modern, but soft." Mr. Goss told his designers (and friends), Tribeca-based William Brockschmidt and Courtney Coleman, what the house said, adding that he wanted the apartment's set of rooms to be "intimidatingly formal."
"They turned out to be more glamorous than intimidating," Ms. Coleman said later. But there is decidedly no bourgeois plopping or pretend, infectious intimacy in Mr. Goss' rooms. The lean and fitted upholstery was done by Rasheed Khedaru at Second Life Interiors & Upholstery Inc., with, Ms. Coleman said, "a tailor's meticulous attention to detail."
Until he was sent off to boarding school, Mr. Goss grew up in a 1932 neo-Georgian home by Gardner Daily, in San Francisco, documented in 1994 in Architectural Digest. In Mr. Goss' current apartment, the neo-Georgian style is mainly seen in the custom-designed moldings ("the trick to making a room grand," he said) and in furnishings like the sofa, "vaguely George II." Even the non-Georgian elements seem in a perpetual state of grace. The bedroom furniture, upholstered in silk with caterpillar fringe, is colored in eau de Nile, a pale watery green that makes one feel as if one is being lightly submerged.
The sky-blue, celadon, green, and straw-yellow faux wood-grain wallpaper, from Old World Weavers in England, reminds Mr. Goss of the pinkish, white-washed plywood in his family's ranch house in the Napa Valley.
At the Met, Mr. Goss is currently supervising the installation of a French Art Nouveau dining room, designed by Lucien Levy-Dhurmer, to open in December. His own apartment is no period room, spanning as it does the 18th century with the "Spanish or Portuguese ex-voto crystal ship chandelier" in the bathroom, from R. Louis Bofferding; the 19th-century Japanned tea table bought at Sotheby's; the 20th-century Mark Stock portrait of himself over the mantel and the 21st-century ceramic vases from Pearl River. "Period rooms are not about living today," he said. They are oddly suspended between one time and another, the sofa wanting, the chair for all the world, neither anyone's exact past or present, all formed by a historical dream. No one is going to walk in. (Though they are sort of like rooms in a big doll house, with the exciting feeling that a doll is going to hop in at any moment.) It could be winter, summer—the rooms would never know.
Mr. Goss' own chambers, on the other hand, are hard to imagine in summer or autumn, even though they were visited in a globally warmed fall. His living room, so blue, so white, is decidedly spring, early spring, cold spring with the air from the terrace. When he entertains, he brings out a folding table, the 1910 Austrian silver candelabras believably made for the Wiener Werkstätte and a stack of Philippe Starck transparent Ghost Chairs that hover invisibly for the guests to sit on.