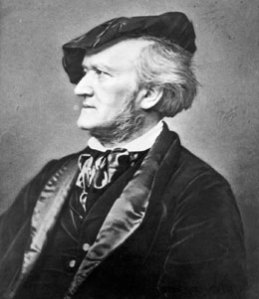 The most popular artists today on Amazon's new mp3 download service are, in order:
Richard Wagner
The Apples in Stereo
Pink Floyd
Feist
Radiohead
Kanye West
KT Tunstall
The Beach Boys
The Rolling Stones
The Smashing Pumpkins.
New Yorker critic Alex Ross speculates that Wagner's "phenomenal rise up the charts would seem to have something to do with the fact that the 1953 Bayreuth Ring under Clemens Krauss is being offered for $13.98."
That may explain why Wagner's gone from No. 9 to No. 1 in 3 days. (The only overlap between the Amazon chart and iTunes' top 10 albums are Kanye West, who is iTunes' No. 3, and Feist, who's at No. 4.)
That being said, there are gobs of classical music albums offered on discount on Amazon, and Luciano Pavarotti is the only other classical artist or composer to crack Amazon's Top 25. Does this herald a Wagner renaissance?