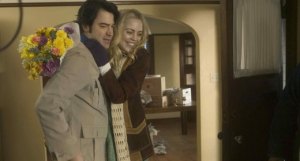 HOLLY
Running Time 114 minutes
Written by Guy Jacobson and Guy Moshe
Directed by Guy Moshe
Starring Ron Livingston and Thuy Nguyen
MUSIC WITHIN
Running Time 94 minutes
Written by Bret McKinney, Mark A. Olsen and Kelly Kennemer
Directed by Steven Sawalich
Starring Ron Livingston and Hector Elizondo
It's rare when a rising young actor stars in two new movies back to back, and next door to impossible when they both open simultaneously. But this is what's happening to Ron Livingston—darkly brooding, versatile, charismatic and the Flavor of the Month. Both films are imperfect and somewhat disappointing low-budget indie-prods, and both have been lying around on a shelf for about a year and a half, but they showcase moody, introspective sides of this interesting actor that weren't shown on Sex and the City, in the ghastly film Adaptation, or on the New York stage in Neil LaBute's weird play In a Dark Dark House. Obviously there's more to this handsome sad sack than meets the eye.
In the disturbing Holly, filmed entirely in the red-light district of Phnom Penh in English, Vietnamese and Khmer, he plays a guy named Patrick, one of those displaced Americans who hangs around postwar Cambodia, not knowing when to go home. While selling stolen artifacts pillaged from Cambodian temples for an ex-army grunt who operates an illegal black market enterprise, he wanders into the sex trade that still operates openly under the cutthroat supervision of the Vietnamese Mafia in infamous Svay Pak, a sort of Cambodian meat market where pedophiles and sex tourists come to buy and prey on children. When his path crosses that of a lost and terrified child named Holly, it changes his moral vision of life in ways that lead to his downfall. Holly (played by a Vietnamese-born actress with wounded eyes named Thuy Nguyen) is a 12-year-old innocent who was sold to a brothel by her own mother. She is also a virgin, which makes her a valuable commodity destined for an early reservation in hell. While Holly experiences life in the cruel and violent world on the Mekong River, bought and sold from one madam to the next, sorting through garbage for food, gingerly negotiating an escape through fields of land mines planted by the American Army, Patrick remains determined to rescue her from the slavery of prostitution and take her back to America, finding his own moral center and risking his life in the process. Everything ends badly, leaving you feeling shocked and hopeless. Crudely written by New York attorney Guy Jacobson and director Guy Moshe, who makes his feature debut, the movie is not a great piece of filmmaking, but it shines a light on a perverse and sordid part of the world few people have ever seen. Filmed in all of the real locales where this outrage is a way of life, it draws attention to Mr. Jacobson's K11 Project and the Redlight Children Campaign, two organizations devoted to saving children from the global sex trade. It will give you nightmares.
Music Within is a noble, well-meaning change of pace, a true story in which Mr. Livingston plays Richard Pimentel, a respected humanitarian who survived the perils of Job to find himself. He was born in Portland in the 1940's to a father who was a Chinese chef and a crazy mother who was so depressed after seven miscarriages that she passed Richard around from one orphanage to the next "like an unwanted Christmas fruitcake." The most memorable thing he remembers from childhood is the teacher who warned that most people live their whole lives without ever finding the music inside their souls that makes them special. So he spends his life looking for it, while his mother celebrates her seven dead children with seven birthday parties a year, followed by failed suicide attempts. By 1970, after an unsympathetic college professor (Hector Elizondo) turns him down for a scholarship he wanted more than anything, Richard heads for Vietnam, where he is seriously wounded; he returns home deaf. Still desperate for an education, he's a decorated hero but nobody will help him. Angry and hostile, he bonds with another damaged soul, a wheelchair-bound vet with cerebral palsy (another electrifying performance by the terrific Michael Sheen, who played David Frost on Broadway in the acclaimed Frost/Nixon and a memorable Prime Minister Tony Blair opposite Helen Mirren in The Queen). Together, they organize a group of misfits who dedicate themselves to raising the standards, improving the quality of life, and finding jobs for people who are treated like lepers by an ignorant society at large. Fighting an uphill battle for human rights, he manages eventually to become a fine student, overcome all obstacles and orchestrate the passage of the Americans With Disabilities Act that prevents discrimination against all people simply because they are "different." Translated, it means he's the one to thank for wheelchair ramps and the loss of all the best parking places. But he did find his inner music. By helping others, he learned to respect himself in the bargain.
This is a nice little well-meaning idea for a movie, but even with three writers on the payroll, it never really catches fire. Both films knock themselves out to make their characters as likable and fascinating as they are unorthodox, but you aren't likely to want to ask any of them over for meat loaf. Despite all that personal appeal, Ron Livingston never manages to bring either film to life, but I can't wait to see what he does next.