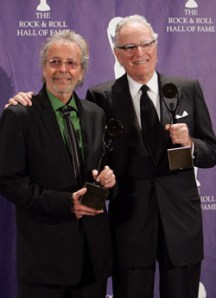 The day after the Plaza turned 100, the newly redone hotel-condo got maybe its hippest buyer yet, a septuagenarian rock music legend.
Jerry Moss, co-founder of A&M Records, the independent L.A. label that helped popularize alt-country (the Flying Burrito Brothers) and then new wave (the Police) and also very sexy pop-jazz (Herb Alpert's Whipped Cream & Other Delights), just paid $9,472,597.13 for an eighth-floor Plaza apartment.
But he signed the apartment contract way back last year, just before he and Mr. Alpert (whose surname initials make up A&M) were inducted into the Rock and Roll Hall of Fame.
Mr. Moss was born here 72 years ago, and got a bachelor's from Brooklyn College, but public records suggest that he doesn't own any other New York apartments. His address listed on the Plaza purchase deed is in Beverly Hills—and he's even a member of the California Horse Racing Board. He and his wife, Ann, have owned and bred racehorses since 1970, including the million-dollar Fighting Fit and Ruhlmann and Kudos.
The stallion that they named after their pal Sting's son, Giacomo, won the 2005 Kentucky Derby. The first-place check for $1.639 million might have helped with the apartment purchase, but, then again, Mr. Moss and his trumpet-playing friend sold A&M to PolyGram reportedly for around half a billion dollars.
His family's Plaza neighbors include droves of unhip chief executives, a handful of Russian oligarchs, plus the businessman credited with co-creating the smiley face icon; they'll probably know Mr. Moss from less-cool A&M bands like the Carpenters, or possibly Styx.