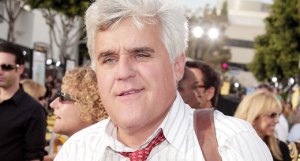 "Conan O'Brien will take over The Tonight Show in 2009," NBC Universal President and CEO Jeff Zucker said yesterday in New York at an event arranged by Syracuse Universiy's S.I. Newhouse School of Public Communications, according to the AP.
If Tonight Show host Jay Leno is having second thoughts about surrendering his job as planned, NBC doesn't share them—at least not publicly.
Zucker said he'd like Leno to remain with the company and that "we are in those conversations now."
"I'm hopeful that Jay will be with us," the executive told the question-and-answer session.
A deal for Leno's exit was finalized three years ago as part of NBC Universal's effort to keep Late Night host O'Brien from bolting to a competing network. Leno marked his 15th year as host of Tonight last May.