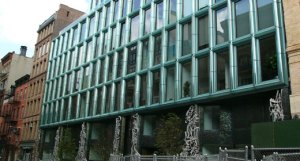 Before Ian Schrager and real estate porn there was Robert Mapplethorpe and gay art porn. Before cold sake, there was weed, coke and crack. Before Ricky Martin and Aby Rosen, there were Lauren Hutton and Dan Aykroyd. And 135 years before any of them, Bond Street, a two-block-long, cobblestone stretch between Broadway and the Bowery, was the epicenter of aristocratic Manhattan, home of Caroline Schermerhorn, who grew up to be the Mrs. Astor.
Bond Street's classy days were long gone when I arrived there on assignment for the SoHo Weekly News, reporting on finding a Manhattan rental, even though I already had one that cost less than half what my car's parking spot does today. Reading the resulting story now—especially its conclusion that decent apartments couldn't be found at decent prices—strikes me as equal parts funny and nauseating. The apartments I looked at ranged from $200 to $600 a month. A loft at Mr. Schrager's new 40 Bond condo just listed at $27,000 a month.
Back when Television, Patti Smith, the Ramones and Talking Heads played nightly across the street at CBGB, I sublet a duplex artist-in-residence loft of questionable legality that I'd found while reporting that story—for $200 a month. "Loft" may be a misnomer; I always thought the place—actually a building behind and connected to both 52 Bond and another ramshackle structure on the Bowery—had probably started life as a stable.
The rudimentary plumbing, free-standing gas heaters, and porous walls through which winter winds ripped unmercifully, didn't encourage human habitation. But there was also a full-ceiling skylight over the upstairs room and a tiny terrace on a large air shaft, not to mention the concert grand piano and tidy little art collection (a watercolor by Braque, drawings by Modigliani, Picasso and Cocteau, and a batch of signed prints by Robert Indiana and Ed Ruscha) left behind by the fellow who sublet it to me sight unseen (he lived between Amsterdam and the Rive Gauche in Paris), on condition that should he ever need to stay there, I would clear out immediately. It would be five years before I even met him—but that's getting ahead of the story.
My landlord, I was told, had been among the first post-sweatshop wave of colonists of Bond Street in the 60's, when it became a secret gay enclave. Boys-in-the-Band types would walk their poodles on the cobblestones, and local lore had it that Dionne Warwick and Burt Bacharach used a neighboring loft to rehearse late into the night; residents came to think of "Do You Know the Way to San Jose?" as a through-the-walls lullaby.
By the CBGB era, the poodles were gone, leather boys would congregate up the street on Mapplethorpe's stoop and half the buildings on the block housed drug dealers offering everything from coke (sold by a sculptor who lived with an heiress across the street) to Colombian weed (sold out of a full wooden barrel by the hairy hobbit who rented my building's basement and sub-basement) to Iranian opium allegedly shipped out of the country by on-the-lam SAVAK agents tucked into portraits of the Ayatollah Khomeini. How it got to Bond Street, I never wanted to know, but a few years ago, I heard from the guy who sold it, now happily rehabbed in California.
My other neighbors included a struggling and somewhat unstable artist, an ex of David Byrne's, and a lesbian novelist who would later publish to considerable acclaim but who then worked at a rickety table I could see out my window, where she'd gently masturbate with one hand and hunt-and-peck type with the other. Our doormen were typically prone and pungent skid-row types. There were several Bowery hotels, a.k.a. flophouses, nearby, but no Bowery Hotel, and certainly no trendy restaurants.
The only semblance of uptown chic arrived with visitors slumming at CBGB. Which may be why, after Talking Heads shows, David Byrne would escape to visit my downstairs neighbor, a fellow Rhode Island School of Design grad, while Chris Frantz and Tina Weymouth, who shared a cold-water loft on Chrystie Street, would come to my place for hot showers and quick pick-me-ups.