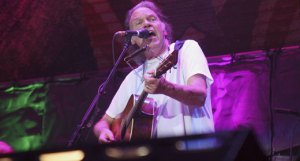 It's been four years since Ween last released a record—and even longer perhaps since their odd brand of demented joke-pop felt relevant. But the duo from New Hope, Penn. is looking for just that with La Cucaracha, their ninth studio album in 17 years. "Fiesta" and "Your Party" set the ambiguously cheerful tune, and the horn play of Jazz saxophonist David Sanborn, known for being Uplifting, makes it seem clear Ween has shaken off whatever "health concerns" they may have had. The thing about Ween is it was never just the jokes; they're damn great musicians. Here's hoping La Cucaracha can get off its back.
Two musical acts who call Brooklyn home have something new to fill the tinny earbuds of F train iPods. Raymond Raposa, otherwise known as Castanets—earns some unwanted street cred with In the Wines, written weeks after he was mugged outside of his Bed Stuy dwelling. Believe or not, the advance word is that the album is a bit dark. Given the critical acclaim he got for Cathedral and First Night's Freeze, it's something worth picking up.
The indie pop trio The Forms had their share of good press with the earnest post-rock Icarus, their debut album. That was over 4 years ago. Now they're trying pick up where they left off. Their self-titled follow-up was produced by veteran Steve Albini (Nirvana, PJ Harvey, er, Bush) and they recently played four shows at CMJ. Take that, voice inside your head that says you should have gone to law school!
One may recognize Emmy Rossum from such popular films as Mystic River and The Phantom of the Opera. Well, she's gone the route of her Opera co-star, Minnie Driver, and released an album. It's called Inside Out. Her first single is all about how the world moves too fast, and how she wishes she could just slow it down. Her voice sounds more doctored than Cher's on "Believe." But it's been listened to 179,250 times on her myspace page so maybe that's just what the world needed?
Neil Young hits record stores with Chrome Dreams II, the follow-up to the legendary 1977 acetate bootleg that had never been released. If you're enough of a Neil Young fan or music geek to want all the details of the backstory then you already know it, so we'll stop there.
And Robert Plant and country star Alison Krauss release an album of covers, Raising Sand. They're no Jack White and Loretta Lynn, but judging from a snippet broadcast on NPR, they're not as awkward together as one might think.