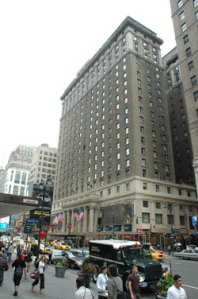 There's hope for the old fleabag yet!
In a surprise 6-to-1 vote last night, the landmarks committee of Manhattan's Community Board 5 voted to recommend designating the historic and endangered Hotel Pennsylvania as an official city landmark.
If approved by the full board next week and later by the city's Landmarks Preservation Commission, the proposal could save the old 22-story inn from the wrecking ball. Owner Vornado Realty Trust wants to tear it down and erect a giant office tower in its place, possibly as a new headquarters for Merrill Lynch.
The board's vote ran counter to the wishes of the Municipal Arts Society, which informed the panel by letter that it did not support the designation for fear of interfering with Vornado's planned redevelopment of the nearby Farley Post Office.
Even Joyce Matz, perhaps the panel's most zealous preservationist, did not support the motion, noting that the "banal" building was actually designed by "lesser junior staff" members of the hallowed architecture firm McKim, Mead & White. (Both Charles McKim and Stanford White were dead by the time the hotel was built in 1919.)
"I had discussions with three very noted architectural historians, and the feeling was this, [the hotel] is not the best, nor one of best, hotels that McKim, Mead & White designed," Ms. Matz said. "It is not a significant design, nor is the facade of exceptional interest."
Others, though, pointed to several unique cultural attributes, including the Glenn Miller-popularized "Pennsylvania 6-5000," which remains "New York's longest continually used phone number."
The hotel is also "one of the last surviving examples of very large hotels built to accomodate train travelers," noted writer Carter B. Horsley, who typically doesn't speak out on such issues, he said.
The full board will take up the issue on Nov. 8. The meeting takes place at 6 p.m., located at 227 West 27th Street, Building "C", Haft Auditorium, 2nd Floor.