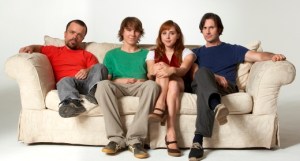 "I'm totally getting my ass kicked," said Paul Dano, the 23-year-old actor best known as the brooding, Nietzsche-obsessed older brother in last year's Little Miss Sunshine. "But in a very good way," he added, discussing his role as Charlie, a heartbroken college dropout, in the Ethan-Hawke directed, off-broadway play Things We Want currently in previews at The Acorn Theater.
Mr. Dano's character is one-third of a trio of brothers in The New Group production. They're forced to live together in their childhood apartment as lost adults, slugging whiskey shots, quoting Pinocchio, threatening to jump out windows and desperately searching for the things that will make them happy. Teddy (played by theater vet Josh Hamilton) seeks the answers through a guru known as "Mr. Miracle," while Sty (The Station Agent's Peter Dinklage) numbs himself with alcohol. Charlie is preoccupied with his "heartbreakdown," which happened after his girlfriend, Zelda, broke up with him and he dropped out of culinary school.
"What's frightening about Charlie is that there are definitely some things that happen to him that I can relate to, in a personal way," Mr. Dano explained. "It's much harder to play somebody who does hit close to home. That was definitely what attracted me to Charlie and that's definitely the challenge that I'm facing right now."
"I think there's an honesty in Charlie, I think there's an honesty in the writing too. This is a modern play, it's a new play and it's not like presentational theater or something. It's pretty realistic. I just think Jonathan's writing is an amazing combination of darkness and humor. I think there is a lot of uncomfortable laughs, I can relate to that."
Read more about Paul Dano in his new play Things We Want in next week's issue of the Observer, out on Oct. 31. Check here for tickets to the show.