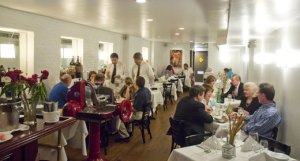 The legendary Sandro, all of 6-foot-4, makes his stately passage through the dining room in a white T-shirt and outsize pants that look like pajamas. Tonight they are patterned with blue, pink and yellow dots (last week it was green and turquoise peacock feathers). The genial chef and host, who has close-cropped hair, a beard and the girth of Falstaff, pauses at each table to greet his guests. They jump up and shake him by the hand.
Sandro Fioriti's following has remained devoted, even cult-like, ever since he introduced his ebullient version of Roman cooking to New York 22 years ago (his crisp fried artichokes and his spaghetti al limone are still talked about). And yet fans have had a hard time keeping track of him.
Sandro, who is originally from Umbria, opened his first eponymous restaurant under the 59th Street bridge with restaurateur Tony May, the owner of San Domenico. The premises were out of the way and too big. Eight years later, Sandro disappeared to the Hamptons and then to St. Martin. He resurfaced in the city in the mid-90's, since when he has cooked at more restaurants than I have room to list here, among them Noodle Pudding in Brooklyn, Il Buco in the Village, a second Sandro's in Chelsea five years ago, and several Upper East Side establishments. (When Mayor Bloomberg banned smoking in restaurants, Sandro, a cigar aficionado, was at Serafina, where he defiantly put tobacco in his gnocchi, steak sauce and even in the panna cotta.) I last saw him two years ago, at Table XII in the Lombardy Hotel, cooking in a baroque setting that didn't match the friendly informality of his food. So he moved on.
Now he's opened a third Sandro's, with Tony May once more as his partner. The restaurant is in a long, narrow storefront space on 81st Street, just off Second Avenue. There is a small wooden bar in the front, next to a large free-standing red-meat slicer that holds the pride of Bologna: a mortadella sausage. The dining room, lit by frosted glass sconces, is completely white but for a blown-up color photograph of market fruits and vegetables on the wall by the kitchen.
Because the room is all hard surfaces, apart from the white tablecloths, it's loud. So the customers talk louder. Some, built like football players, are almost as large as Sandro himself; others look the prototypical well-heeled Upper East Siders, nattily dressed in pinstriped suits. The atmosphere is congenial and neighborly.
"Have a good dinner!" says a large blonde woman, sheathed in plum-colored taffeta, as she gets up to leave the table next to me. "You're going to love it!"
There is a lot to love at Sandro's. The generosity is established from the start, with the tall sticks of herb-flecked grissini set down on the table, along with freshly cut slices of wonderful mortadella and chunks of Parmesan.
But the service from the staff of mostly Italian waiters, albeit affable, is uneven. One Saturday night, it took over 20 minutes to get a drink. The fourth time I asked the waiter he replied, "What kind of water would you like? Still, sparkling or tap?"
"I'd like my drink."
"I'll go and get it."
"Where from?" inquired one of my companions archly.
At long last our drinks arrived and we looked at the menu. Sandro's repertoire has stayed pretty much the same over the years. It always includes certain favorites such as fried artichokes, spaghetti with lemon or melon sauce, and chicken livers balsamico.