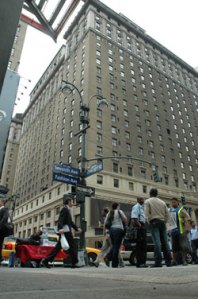 Beleaguered financial giant Merrill Lynch has "given every indication" that it intends to move from downtown to a new skyscraper where the historic Hotel Pennsylvania now stands at 401 Seventh Avenue, according to today's Times.
But! Preservationists hoping to save the once glamorous circa-1919 McKim, Mead & White-designed building from the wrecking ball, take heart. There's still a glimmer of hope for the old fleabag.
The Hotel Pennsylvania demolition project requires public approval, which could take a year, and would entail building over the railroad tracks that run beneath the hotel and pose engineering and security challenges.
A committee of the local Community Board 5 meets Tuesday to discuss whether the hotel merits consideration as a protected landmark. The meeting takes place at 6 p.m. on Oct. 30 at 227 West 27th Street, 8th floor, Rm A802.